Install and Update Latest Canon Printer Drivers For Windows 10, 8, 7

Canon presents an amazing range of hardware and software products. Canon digital scanners, Canon digital camera, Canon printers, and even Canon camcorders are extremely popular. Canon has specific drivers for each kind of product.
If you are in this article because your Canon printer is not working properly, then we would like to inform you that there might be some serious problems with the Canon printer drivers.
Your Canon printer will only work properly when you are using the latest Canon printer drivers on your Windows computer. You can install Canon printer drivers for Windows 10 with the help of this article. Additionally, you can also learn to update outdated Canon printer drivers from this article and troubleshoot any problem with your Canon printer drivers.
Most Effective Method to Update & Install Canon Printer Drivers on Windows (Recommended by Professionals)
When it comes to update & install the most recent Canon printer drivers or any other drivers, without a single doubt, Win Riser Driver Updater is the ideal option. We would like to highly recommend you to use the tool to install and update Canon printer driver or any other driver. A well-advanced driver updater tool that is being accessed by millions of users across the world. So, boot your hands, and hit the below download link now to get this magnificent driver updater tool. To know furthermore read the entire post without scrolling!

Why Do The Canon Printer Drivers Not Function Properly?
Canon printer drivers can stop functioning due to the following reasons:
If the Canon printer drivers are outdated.
If the Canon printer drivers are corrupt or damaged.
If the Canon printer drivers are missing after a Windows Update.
If the Canon printer drivers are not compatible with Windows after you have upgraded to Windows 10 OS version.
---
Types Of Methods To Install Canon Printer Drivers
The below methods can help you with Canon printer drivers download. The methods have been laid out in a descriptive and step-by-step manner for ease of understanding.
Type 1: Update Canon Printer Drivers Using Device Manager
Another best way to update Canon printer drivers manually is – Device Manager. It is a Windows in-built utility tool that lets you perform driver download task for any device. So, if you have quite a distinct technical knowledge then you can use Device Manager to update Canon printer drivers. Follow the steps listed below to update drivers via Device Manager! 
Step 1:- Hit the Win logo key and R key from the Keyboard at a time to invoke Run Dialog box. 
Step 2:- Thereafter, type devmgmt.msc in the search box and then hit the enter key from the Keyboard.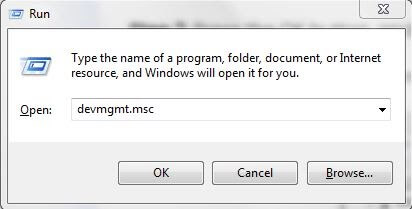 Step 3:- Then, navigate to Printing or Print Queue category and expand it. 
Step 4:- After this, click right on your Canon printer device and then choose Update Driver option from the list.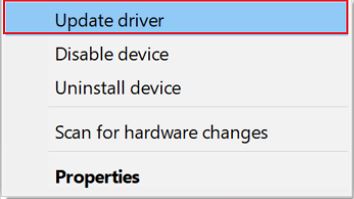 Step 5:- To proceed further, click on the Search Automatically for the Updated Driver Software option.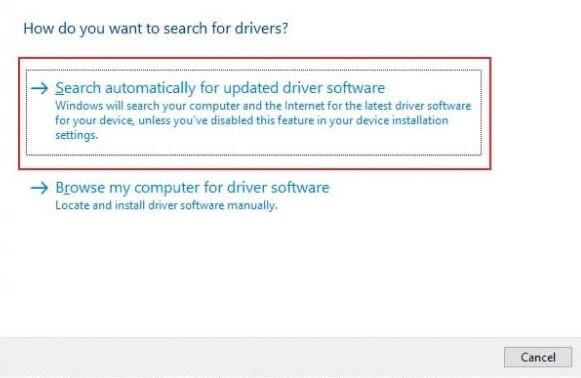 Now, to finish the installation follow the onscreen instructions. So, that is how you can perform the driver download task using Device Manager.
---
Type 2: Manually Install Canon Printer Drivers
For Canon printer drivers download, you can opt for the manual method that can be carried out from Canon's website. The steps have been given below:
Step 1. First of all, visit the official Canon Product Support website.
Step 2. You need to provide the printer model number in the Search box or find your product from the Products Category Section.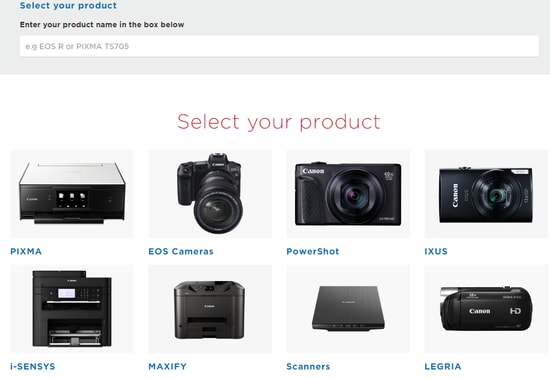 Step 3. You will need to select the drivers by choosing the correct Windows OS version of your computer.
Step 4. From the retrieved results, locate the relevant driver package, and then you can go for Canon printer drivers download.
Step 5. After you have downloaded the Canon printer drivers package, then you can unzip the file (if the package is within a zipped folder) and double-click the .exe file.
Step 6. Doing this will start the installation process of Canon printer drivers.
Step 7. You can perform the required actions as per the on-screen instructions and finish the installation of the latest version of Canon printer drivers on your computer.
Step 8. Once done with the above steps, you can just reboot your computer.
Read Also: How to Update Printer Drivers in Windows 10
---
Type 3: Automatically Install and Update Canon Printer Drivers
Now that you have learnt the manual process of Canon printer drivers download, next you can learn how to obtain the Canon printer drivers in a quick, painless, and easy manner with the aid of an automated tool such as the Bit Driver Updater.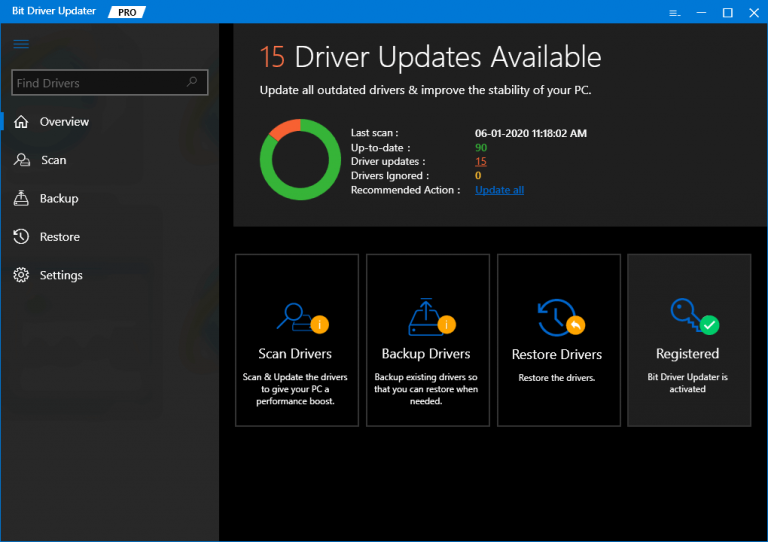 The manual method is tedious, hectic, time-consuming, and requires basic technical skills whereas the automatic way is swift and tool-dependent, hence is independent of the user's understanding and technical skills.
Steps For Canon Printer Drivers Download With Bit Driver Updater
Step 1. Click the download button below to download and install the tool on your computer.

Step 2. Then, use the tool to "scan" your computer. It will furnish you with a list of missing drivers, corrupted drivers, as well as outdated drivers.
Step 3. Click the "Update" button so that the driver updater tool can automatically find the Canon printer drivers download version from its extensive driver database.
Step 4. Afterward, it will automatically install the Canon printer drivers on your computer.
Step 5. Lastly, you can restart your computer once.
Offerings and Benefits of Bit Driver Updater:
Backup & Restore feature helps you save all drivers and data files and recover them when needed.
One-Click Update feature saves your time to update multiple device drivers at one go.
You can schedule scans at regular intervals to keep track of your device driver condition and always keep them updated.
Offers 10 times faster driver download speed.
Features an extensive driver database.
Includes a driver exclusion list to omit certain devices from being scanned and updated.
Users can avail round the clock technical support.
The tool constantly maintains the system drivers and hence maintain the PC performance over a prolonged period.
---
Frequently Asked Questions (FAQs)
Below, we have answered the most common questions regarding the Canon printer driver update. Let's have a quick look at them!
1. How do I Identify that my Canon printer driver is out of date?
There is an in-built utility tool called Device Manager in Windows PC.   You can use this tool to check whether your Canon printer drivers are outdated or not.
All you need to do is- just open Device Manager and then go to the Printer and Print Queues section. Now, double-click on it to expand the category. After this, if you see a yellow exclamation mark beside the Canon printer device, that indicates the respective drivers are outdated and you need to update them.
2. Why should I need to download the latest version of Canon Printer Driver?
To maintain the good work of the Canon printer it is very crucial to download and update the respective drivers from time to time. Because an outdated driver lags in delivering the best printing outputs.
3. How do I install the Canon printer driver without CD/DVD?
You can use the USB cable and Wi-Fi to get the latest Canon printer driver installed on your Windows PC without CD/DVD. But make sure that your Canon printer must be placed nearby your computer. Here is how to do that:
Step 1: Through the printer data cable, connect the Canon printer to your PC.
Step 2: Once you have plugged in the printer to your PC, then you need to visit the official website of Canon to install the printer software.
Step 3: After this, from the Support tab choose Software & Drivers.
Step 4: Type the model number of your Canon printer in the search box and download the accurate driver file.
Step 5: Run the downloaded file and follow the on-screen instructions to finish the driver installation.
4. Can a Canon Printer Driver can run on any Windows version?
Yes, the Canon printer driver can effortlessly run on any Windows operating system, like Windows Vista, Windows XP, Windows 7, Windows 8, Windows 10 (64-bit and 32-bit).
5. Why can't I install my Canon printer?
You cannot install a Canon printer due to poor network connection, print server not found, and faulty USB connection.
6. What's the difference between 32-bit and 64-bit versions of Canon Printer Driver?
Talking about the 32-bit and 64-bit Windows operating system versions, the 32-bit version was originally designed for a 32-bit Windows operating system PC. Whereas, the 64-bit version was meant for 64-bit Windows operating system PCs. However, the 32-bit version can also run on the 64-bit Windows operating system quite smoothly.
---
Conclusion: Install Canon Printer Drivers
Canon printer drivers download is a breeze with the methods described in the article above. Hopefully, you can now resolve the issues with the Canon printer drivers on your own and use your Canon printer smoothly.
Do let us know if you have any questions or suggestions for us by leaving a comment in the comments box below.
Snigdha is a technical content writer with expertise in the field of science & technology. Though she has a very diverse academic and professional profile yet she finds writing to be a creative form that she was unable to explore so far. When not writing, she can be found indulging in other forms of creativity like painting or travelling.
Subscribe to Our
Newsletter

and stay informed

Keep yourself updated with the latest technology and trends with TechPout.
Related Posts