Although tracking the weather of your surroundings might not sound interesting but is a necessity for some. Many users across the world live in conditions where a hot sunny summer day can end up in thunderstorms in just minutes. Not everyone has the luxury to stay in the cities where the climate is stable and does not require keeping an eye on what is coming.
If you are also living in such areas the best thing to do is find weather widgets for Windows 10 or other devices. This can be the most feasible option to track the weather conditions. Although Windows removed the by-default weather feature in Windows 8 you can still download weather apps for desktops.
The article below mentions some of the best weather widgets for Windows 10 or 11 devices. Read the complete guide and download the suitable weather apps for Windows 10 devices at your convenience.
Best Weather Widgets For Windows 10, 11
Given below is the list of the best weather widgets for Windows 10. No need to download them all, just go through the list and identify the best weather app for Windows 10.
1. The Weather 14 Days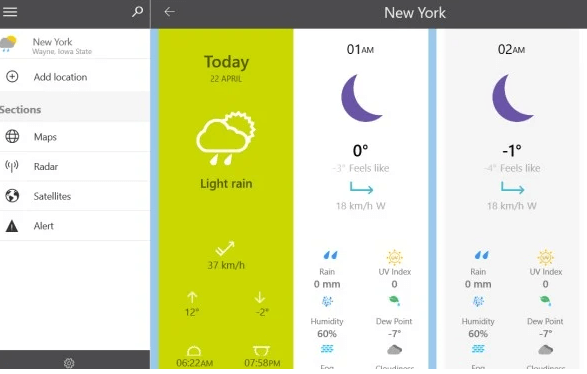 The first one on the list of best weather widgets for Windows 10 or 11 is The Weather 14 days. As the name depicts it has one job to deliver and that too efficiently. More specifically the app ( not a widget) allows users to track advanced metrics of weather data such as maps, satellite view, or Radar.
Also, it can display forecasts for multiple locations for frequent travelers. The user interface of the application is eye pleasing and has amazing animations. You can also customize the look of the app. The possibility to customize the overall feel makes it one of the best weather apps for Windows 10.
Also Read: Best Widgets for Mac to Use
---
2. Rainmeter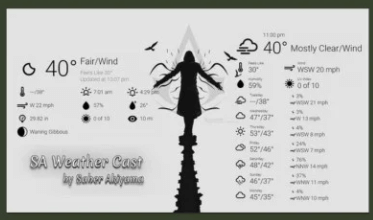 The next one on our list of best weather widgets for Windows 10 is Rainmeter. It is open source and available for free to users. It allows the creation of multiple widgets with various skins. The community of Rainmeter is large over DevianArt, Reddit, and various other official forums. These users have shared files for others to download the widgets developed by them.
Customize your weather widgets according to the Wallpaper. Also, with Rainmeter it is easier to enable or disable widgets when required. However, creating widgets from scratch can be a tough task and requires learning. But in the end, when you learn and create them it's all worth it.
---
3. Widget Launcher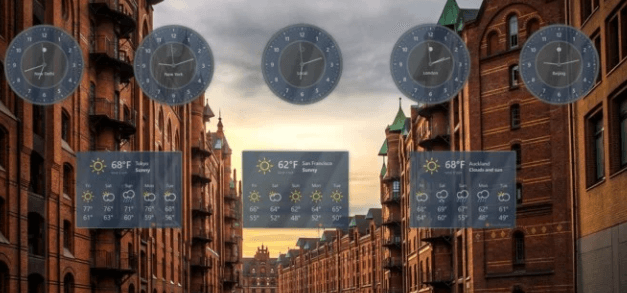 Another best weather widget for Windows 10 is Widget Launcher. As the name suggests it is one of the most popular weather apps. It is available for download on your Microsoft store. Formerly the Widget Launcher was known as Widgets HD.
It supports other common widgets such as notes, clock, etc which are commonly used by several Windows 10 users. The only restriction is that the forecast displayed is restricted to 5 days. Neither the days can be increased nor decreased. Nor does it allows you to change the UI, source, or style as Rainmeter.
---
4. Windows Live Tiles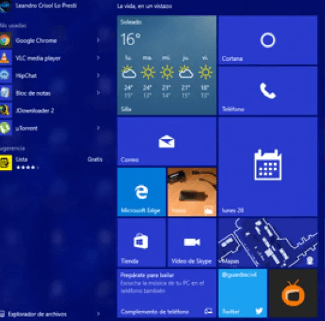 If you don't want to rely on external weather apps for desktops Windows has its own Weather checker. The Weather app by Microsoft is also one of the best weather apps for Windows. However, it doesn't allow users to place it as widget on their desktop. And these tiles can be found in the Start menu.
Just click on the Tile to open App. This app is already installed on your device and can be customized to add various displays, locations, forecasts, maps, etc.
Also Read: Best Weather Apps & Widgets For Android
---
5. 8 Gadget Pack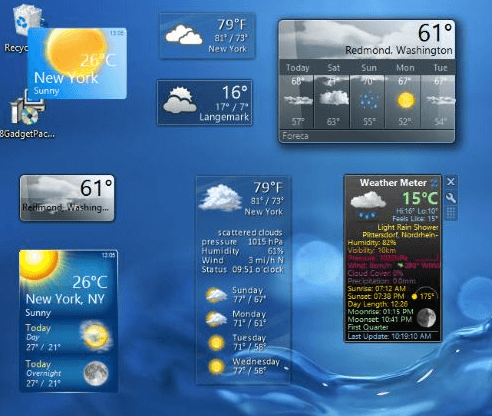 The next and the last one on our list of best weather widgets for Windows 10 is 8 Gadget Pack. The app not only allows users to customize weather widgets on their devices but also enables them to host other informative widgets.
The best part about the widget is right on the home screen it has a descriptive tutorial of its working. When compared with other weather apps for Windows it is less flexible & versatile. But to compensate for this it has several widgets and gadgets from which users can choose from multiple available designs.
---
Frequently Asked Questions
Ques. Can you add Widgets on Windows 11 desktop?
Ans. Yes, Windows 11 enables users to add multiple Widgets of their choice on their desktop. Identify the Add widgets button present between Main Widgets & the section for Top stories. From this Widget Settings window select the widget that you wish to add.
Ques. Is it possible to customize Widgets in Windows 11?
Ans. Windows 11 has added multiple features and the possibility to customize Widgets is one of them. Depending upon your requirements, update the size or types of Widgets. Add a Watchlist on your screen to keep track of the stock market.
Ques. How to add a Clock Widget to Windows 11 device?
Ans. Download a third-party application, there are a number of apps available for this purpose. Use this app to add digital, world, and square clocks on your Windows 11 PC.
---
Closing Lines on Best Weather Widgets for Windows 10, 11:
So these were our top picks for the best weather widgets for Windows 10 or 11 devices. Hopefully, you can now choose a suitable alternative from the aforementioned weather apps for Windows. Do let us know in the comments below if we missed out on any of these desktop weather apps.
Also, if the article did the needful subscribe to our blog for more technical and problem-solving guides. Follow us on Facebook, Twitter, Instagram, and Pinterest to never miss out on any updates.
Akshara is an Engineer turned Technical Writer. She is a tech reader who aims to deliver the best of her knowledge to the readers without complicating it. If not writing you can find her in the kitchen, because no place serves the good tea.
Subscribe to Our
Newsletter

and stay informed

Keep yourself updated with the latest technology and trends with TechPout.
Related Posts