What Are The Indian Alternatives To Chinese Apps?
Published Date :
Jul 02, 2020

In this article, we will be putting forth a curated list of the best Indian alternatives to the Chinese apps. Before going further, let's first understand why you would be in need of alternatives to popular Chinese apps.
For years, China has been dominating world trade in almost every area. With the dirt-cheap pricing tactics, they have been able to grab Lion's share of the world business market. Though, the quality of the products is inferior, Chinese products have been popular all across the globe! The apps market is no different and India is a prominent market for China.
India is a gargantuan country and with the advent of technology, more and more people have started to use smartphones in their day to day lives. This number is poised to skyrocket in the coming years and hence offer a tremendous potential business for the App development companies! Chinese tech companies spotted this opportunity and became popular in no time.
But the biggest issue is data privacy. Are you taken aback? Surely you are.
There have been instances in the past where the Chinese apps have collected the sensitive and personal data of the users. The Chinese apps companies have disrespected the user privacy and sent sensitive user data to the Chinese servers. Now it may sound like a nightmare to you that Chinese authorities get access to this data that is so private and sensitive!
Why let the app makers from China reap the benefits of this tremendous opportunity when there are suitable Indian alternatives to the Chinese apps available? Makes sense?
It is high time that we start using suitable alternatives to the Chinese apps in India and safeguard our private data going to a foreign country. This private data can be put to malicious use and this should be enough to scare the hell out of you. Do not worry, there is a solution to it. Continue reading!
List of Best Indian Alternatives to Banned Chinese Apps in India
The Government of India (GOI) has recently banned 59 Chinese apps to ensure the safety and sovereignty of Indian cyberspace.
TikTok, CamScanner, UC Browser, Shareit, Helo, and BeautyPlus are among the top Chinese apps that have been banned by the Indian government.
Here's the complete list of best Indian apps that you can safely use as an alternative to these suspicious banned Chinese apps:

| Chinese APP | Alternative Indian APP | COMPANY |
| --- | --- | --- |
| Cam Scanner | FlashScan – PDF Scanner, Scan Document | INNOVANA TECHLABS LIMITED |
| TikTok | Roposo – Made In India | Roposo |
| Cache Cleaner DU App studio | Advanced Phone Cleaner | Droid Tonics |
| Clean Master – Cheetah Mobile | Advanced Phone Cleaner | Droid Tonics |
| DU Cleaner | Advanced Phone Cleaner | Droid Tonics |
| Shareit | JioSwitch – Secure File Transfer & Share (No Ads) | Reliance Retail Ltd |
| Shareit Lite | JioSwitch – Secure File Transfer & Share (No Ads) | Reliance Retail Ltd |
| Kwai | Vizmato – Video Editor & Slideshow maker! | Global Delight Technologies Pvt. Ltd |
| UC Browser | Jio Browser- Fast & Secure Indian Web Browser | Reliance Corporate IT Park Limited. |
| Shein | Myntra Online Shopping App – Shop Fashion & more | Myntra |
| Clash of Kings | BattleCry: World War Game Free Online RPG | DYNAMICNEXT |
| DU battery saver | Q Battery Doctor-Battery Life Saver Battery Cooler | Free Online & Offline Games Apps India |
| Helo | WeLike | WeLike India |
| Helo Lite | VidStatus | QuVideo Technologies |
| Likee | Photo Video Maker with Music | VidMix Photo Video Maker & Video Editor Inc |
| YouCam makeup | Makeup Photo Editor Makeover | VideoVibe |
| Virus Cleaner | Advanced Phone Cleaner | Droid Tonics |
| APUS Browser | JioBrowser – Fast & Secure Indian Web Browser | Reliance Corporate IT Park Limited |
| ROMWE | Myntra Online Shopping App – Shop Fashion & more | Myntra |
| WeChat | Hike Sticker Chat – Fun & Expressive Messaging | Hike Private Limited |
| Newsdog | JioNews – Live News, TV, Magazine, Video, e-paper | Reliance Corporate IT Park Limited |
| Beutry Plus | Selfie Camera – Photo Editor, Filter & Collage | MagneticStudio |
| Club Factory | Myntra Online Shopping App – Shop Fashion & more | Myntra |
| UC News | Latest Updates, Breaking India News App – ABP Live | ABP News Network |
| Weibo | Reddit | reddit Inc |
| Xender | JioSwitch – Secure File Transfer & Share (No Ads) | Reliance Retail Ltd |
| QQ Music | Gaana Music Hindi Tamil Telugu Songs Free MP3 App | Gamma Gaana Ltd |
| Bigo Live | MeetU- Live Video Call, Stranger Chat & Random Chat | MeetU Team |
| SelfieCity | Reos Camera – Art, Beauty & Selfie | Cube26 Developer |
| Mail Master | Bird Mail -Email App | dewords.org |
| Parallel Space | Parallel Accounts | ImaTechInnovations |
| Mi Video Call – Xiaomi | Video Player All Format | UPlayer |
| WeSync | Wipro Next Smart Home | Wipro Enterprises Pvt. Ltd. |
| ES File Explorer | ES File Manager | File Explorer | GreenSoft Infotech |
| Viva Video – QU Video Inc | Photo Video Maker with Music | VidMix Photo Video Maker & Video Editor Inc |
| Meitu | LightX Photo Editor & Photo Effects | AndOr Communications Pvt Ltd |
| Vigo Video | VidStatus- Share your Video status | Vidstatus Team |
| Vault- Hide | Yo Vault – Hide Photo & Video | Yo Android |
| Hago Play With New Friends | Ludo Kingdom – Ludo Board Online Game With Friends | Comfun |
| Wonder Camera | Photo Editor | Pixels Dev Studio |
| Photo Wonder | InstaCollage | Collage Maker | InstaCollage Developers |
| We Meet | QuackQuack – Best Online Dating App in India | QuackQuack.in |
| Sweet Selfie | Photo Collage Maker –Picmix– Beauty Selfie Camera | Snapcial |
| Vmate | VidStatus – Video Status Maker, Made for Indian | VidStatus Tea |
| V fly Status Video | VidStatus – Video Status Maker, Made for Indian | VidStatus Team |
| Mobile Legends | Medieval War Fighting Fantasy: Battle Scars | Motion Art Games |
| New Video Status | Lyrical.ly – Lyrical Video Status Maker | lyrical.ly |
| QQ Newsfeed | JioNews | Reliance Corporate IT Park Limited |
| DU Recorder | Screen Recorder | AppSmartz |
| QQ Player | Video Player All Format | UPlayer |
| Baidu Translate | Multi Language Translator Pro | The Nutshell Innovasion |
| DU Browser | JioBrowser – Fast & Secure Indian Web Browser | Reliance Corporate IT Park Limited |
| QQ International | Indian Messenger | Loopytime Pvt Ltd |
| QQ Security Center | Advanced Phone Cleaner | Droid Tonics |
| QQ Launcher | 8.1 Metro Look Launcher 2020 – Theme, Smart, DIY | Launchers World |
| U Video | Welike – Status Download, Video Share | StarHalo |
| DU Privacy | LOCKit – App Lock, Photos Vault, Fingerprint Lock | SuperTools Corporation |
| CM Browers | JioBrowser – Fast & Secure Indian Web Browser | Reliance Corporate IT Park Limited |
Now, let's take a deeper dive into the list below and understand the features and functions of these popular Chinese apps alternatives.
India Apps vs Chinese Apps
"Change before you have to" – this quote by the great Jack Welch sounds appropriate in the current scenario. Over the years, the Chinese apps like TikTok, Helo, Cam Scanner, SHAREit have taken the Indian app market by storm. It is high time that you make the desired change and go for the Chinese app alternatives. When you do this, you are much more safe & secure and also you get a feel-good factor of using your own country's app.
Best Indian Alternatives to Chinese Apps 
Below mentioned are the prominent Chinese apps and their Indian alternatives:
1. Cam Scanner Alternatives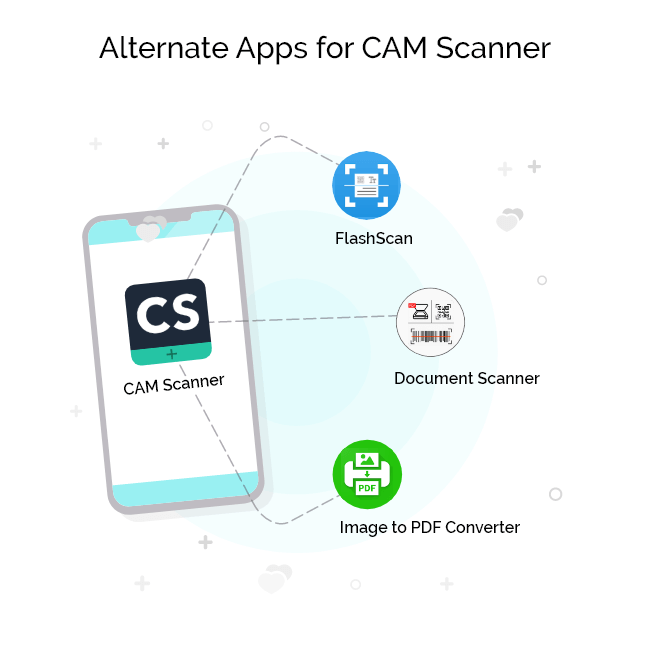 One of the most popular Chinese apps is Camscanner that allows the users to scan the documents and transform the images into a PDF format. However, this app found itself embroiled in a controversy when a Trojan horse module was found inside and this was one of the most dangerous viruses that could allow the download of malicious modules. The Indian alternative to this Chinese app are as follows:
Flash Scan – PDF Scanner, Scan Document
It is an extremely user-friendly app and allows you to scan and make copies of your documents accurately. You can scan pretty much anything and also make the document as a favorite so that you can retrieve the same immediately. If you want, you can choose an image from the gallery and scan it using the filters option. There are numerous other creative options available in the Flash Scan app.
QR & Bar-Code Scanner App: Scan Documents to PDF
It is a QR code reader and an OCR scanner app. It also allows us to scan the documents and transform the images into a text format. This app is a boon for the Indian users as it offers multifaceted features.
Image to PDF Converter- JPG to PDF, PNG to PDF
This app allows us to scan the documents and create their copy into a PDF, PNG, or a JPEG format. Also, this app enables the users to organize and set the order of the documents as per their preference. You can even secure the documents by setting up the password. You get an option to flip, crop & resize the pictures & images.
2. TikTok Alternatives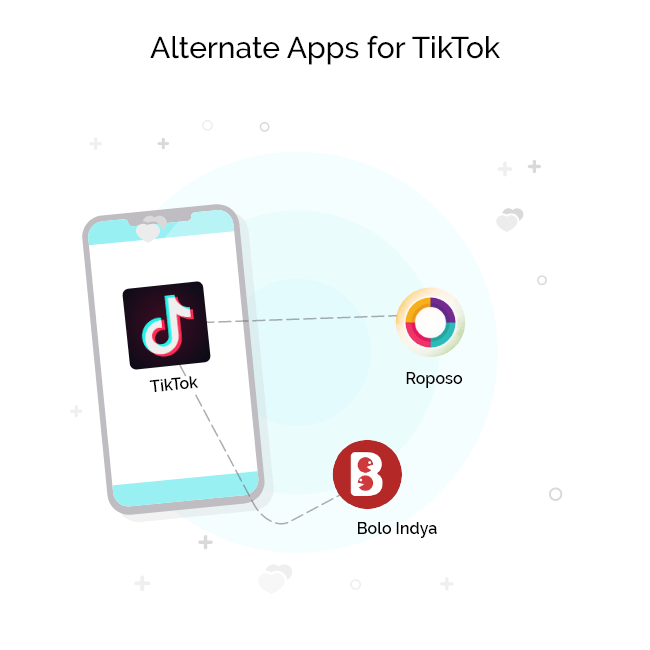 Simply the most popular Chinese app in India, TikTok provides a platform to shoot short videos in the categories of comedy, singing, lip-sync, and dance. But on the flip side, it has landed in controversy due to personal information leakage and privacy issues. Apart from TikTok, the similar Chinese apps like Kwai, Likee & Vigo Video offer the same features to the viewers. The Indian alternatives to the Chinese App TikTok are as follows:
Roposo
This free to download the app can be used in some of the vernacular languages as well like Bengali, Marathi, etc. This app allows users to create videos with some amazing light effects and share them with people all over India. There are numerous channels available on the Roposo platform and the users get multiple options to make their videos look creative.
Bolo Indya
This app also allows the users to create short videos and that too in the regional languages. You can choose your favorite field and create the videos accordingly and the cherry on the cake is that the popular influencers get an opportunity to earn the royalty on the high-quality videos.
3. Clean Master Alternatives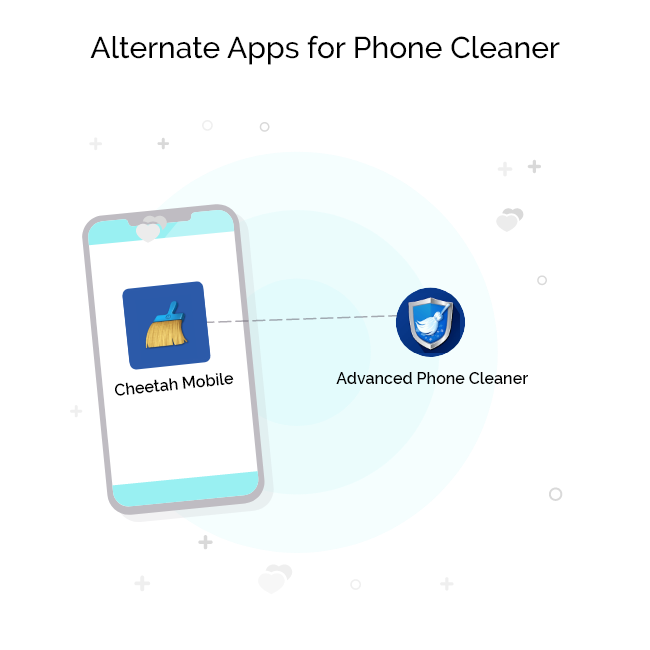 Clean Master is another popular Chinese app that is used by millions of users for cleaning their Android devices. However, in reality, the app is allegedly used to track and collect users' sensitive data. 
If you're looking for an effective phone cleaning application, Google Play Store has some really impressive options for you. Here's the most popular Indian alternative of Clean Master that you can use to clean and speed up your phone:
Advanced Phone Cleaner – Junk Cache Cleaner, Speed Booster
Advanced Phone Cleaner is one of the most popular Indian apps for cleaning and optimizing your phone for faster and smoother performance. It comes with a powerful cache and junk file cleaner that helps you reclaim lost storage space on your phone.
What's great about this application compared to Chinese phone cleaners is that it offers solid features like Anti-malware and Duplicates Photos Cleaner that are hard to find in a cleaning app.
Speed Booster, Game Booster, smart CPU Cooler, File Manager, and Battery Booster are some of its other notable features.
Since the Chinese Clean Master app got banned in India, the best Alternative to Clean Master is Advanced Phone Cleaner.
4. SHAREit Alternatives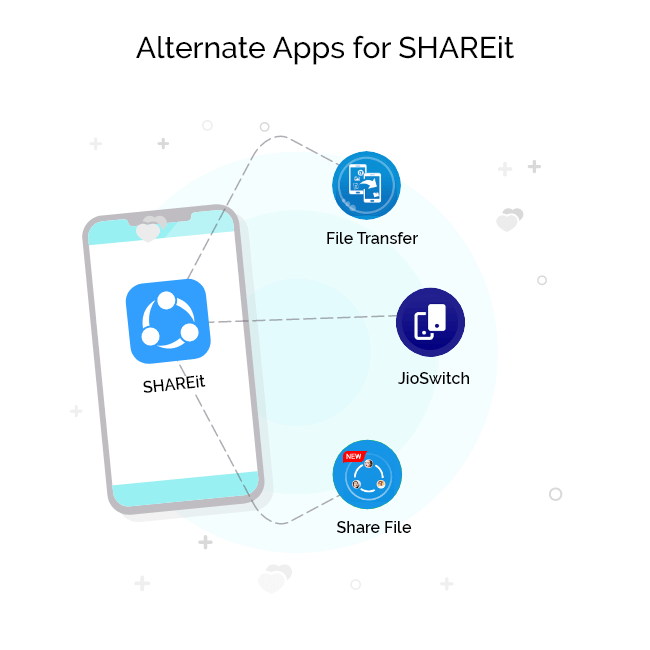 Similar to another Chinese app Xender, the SHAREit app allows the users to transfer files, music, videos & apps from one device to another. SHAREit has been the leader for a long period but was accused of stealing confidential data from the devices. Indian government listed SHAREit as one of the apps that is spyware. Though this allegation was denied by the SHAREit in an official declaration. Do not worry as we have the below mentioned Indian alternatives of the Chinese app SHAREit:-
File Transfer- Data Sharing
This app allows the data transfer between two Android mobile phones using the WiFi connection (The reason is that both the mobiles should be on the network). However, this app does not use the data and you can share pics, content, audio, video, etc.  You can even copy the entire data from one mobile and transfer the same in another mobile (However, this depends on the memory of the device).
JioSwitch – Secure File Transfer & Share (No Ads)
This amazing app by Reliance allows the limitless transfer of videos, music, and pics without the internet connection. This app boasts the speed quicker than that of the Bluetooth and also facilitates the file transfer across the different platforms (Android to iOS or vice-versa).
Share File: – Wi-Fi File Sharing App
It allows the transfer of pics, apps, videos, music, etc. at a swift speed and that too in an offline mode. It is a free resource and does not even require an internet connection. Also, the size of the files is not a hindrance while transferring and it supports different languages like Japanese, Spanish, etc.
5. Beauty Plus Alternatives

Apart from YouCam Perfect, Beauty Plus is a Chinese photo editing app that allows you to make changes in the videos, pics & selfies. You can make your pics, selfies & videos look a lot better using the features of Beauty Plus and then post them on your social media accounts. However, again the privacy issue is a big concern because this app gets access to your private photos, videos, and other confidential information. You may use one of the below mentioned Indian alternatives instead of Beauty Plus to edit your pics:
Selfie Camera – Photo Editor, Filter & Collage
This is an amazing app that allows you to mix up two different images and come up with a new image. While taking a selfie, you can go ahead and use the mirror effects. Also, there are multiple styles and grids that you may use to create a collage. There are numerous filters that allow you to amend the pics using different occasions of life.
Photo Collage Maker – Picmix- Beauty Selfie Camera
This app allows you to take unlimited selfies and then edit them using some of the great features. You can add texture, shades, a beard, or a turban to your pics and make them look attractive. You can create a collage of your favorite pics in a creative way using this app.
Auto Blur Camera – DSLR Camera, Blur Photo
The best aspect of this app is that you do not need to be a professional photographer or need to have an expensive DSLR camera. You can create the same effects using this app. You can give an amazing blur effect to the background in your pics using this app and also include a text on your picture similar to Instagram. The editing options are pretty easy to use in this app.
6. Club Factory Alternates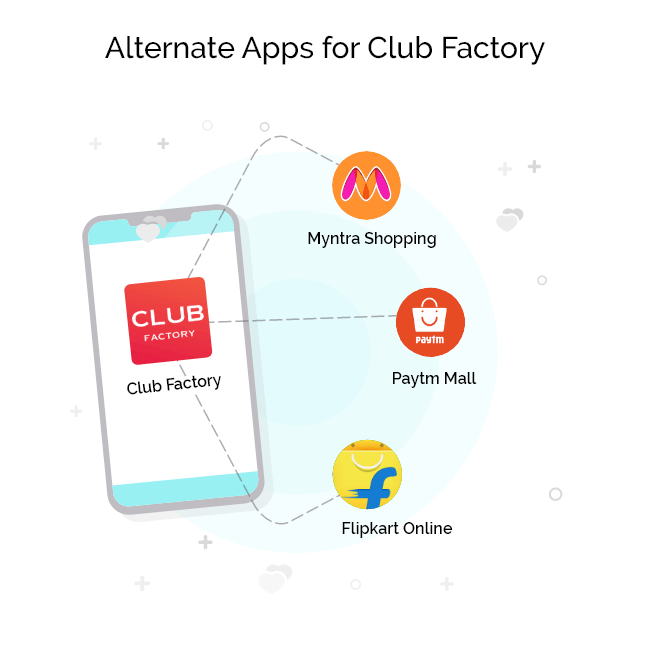 It is one of the popular shopping platforms in India that offers a variety of branded products at a highly discounted price and value-added services like free shipping etc. The biggest red flag is the astounding discount that they offer on the well-known products on their portal. There is an extremely strong possibility that the products sold on club Factory are the first copies and not the original products. Though they claim that the products are being selected through a stringent multi-level quality check, the users have posted bad reviews on the various social media platforms. You can choose anyone from the below mentioned Indian alternatives of Club Factory:
Myntra Online Shopping App – Shop Fashion & more
Myntra is a popular portal that boasts of around 5 Lakh products and the best of the brands on their portal. Myntra also offers great deals on the regular purchase. The brands for the Men & women have been meticulously segregated on Myntra.
Paytm Mall: Online Shopping App, Buy Fastag
Paytm is another well-known brand that has diversified into online shopping apart from its core payment business. Paytm Mall has a whopping 65 million products and the unique feature that sets it apart from other players is that Paytm Mall offers products like Bike, cars, etc. on its portal. The different payment options make it easy for consumers to shop online at Paytm Mall.
Flipkart Online Shopping App
One of the oldest shopping apps in India that sparked the shopping habit in the people. Flipkart offers crores of products in different categories and multiple payment options. Also, it also offers personalized offers to regular customers at attractive prices.
7. Heroes War: Summoners & Monster & Gods Alternatives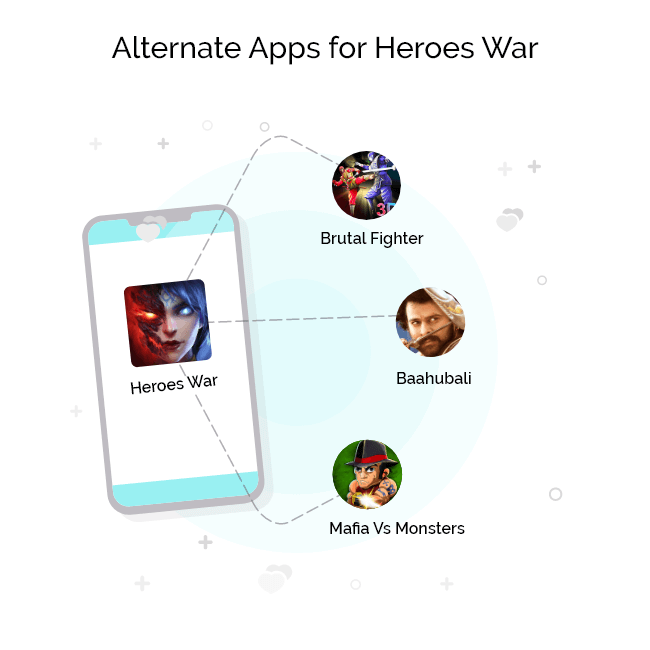 This is a famous revenge game from China where you get to play the role of a princess/prince. You get the backup of the associates and forces in the journey to reclaim your kingdom and power. It is a game that throws challenges in the form of dilemmas, betrayals but you get the support of friends & family. You also get to execute the combat strategies and hone different skills during the play. However there are equal Indian alternatives available for this Chinese app, they are as follows:
Baahubali: The Game (Official)
Based on the popular Bollywood flick Baahubali, this game is the perfect reply to the Heroes War game. All the popular characters of Baahubali are being included in this game and you can create your own army to combat the evil & merciless Kalakeya. There are multiple troops available and also the different weapons that may be used during the fight. This game also offers the option to fight with Kalaleya in a sole battle.
Brutal Fighter: Gods of War
This game is another adventure game that lets the users combat the robust God creatures. There are some attractive visual graphics used in this incredible game and users get to use some explosive weapons. There are 16 odd levels in this game where you can play the fight for justice. Moreover, the old fighters get updated at each of the new levels and the exciting feature of this game is brutal fighting.
Mafia Vs Monsters
This is another game that is about a fierce battle between the monsters & the mafia. The unique feature of this game is that it is not just about survival, it develops numerous skills like leadership, agility & problem-solving. You have to combat the mindless army of zombies & monsters and have to be on your toes to overpower them.
8. AppLock Alternatives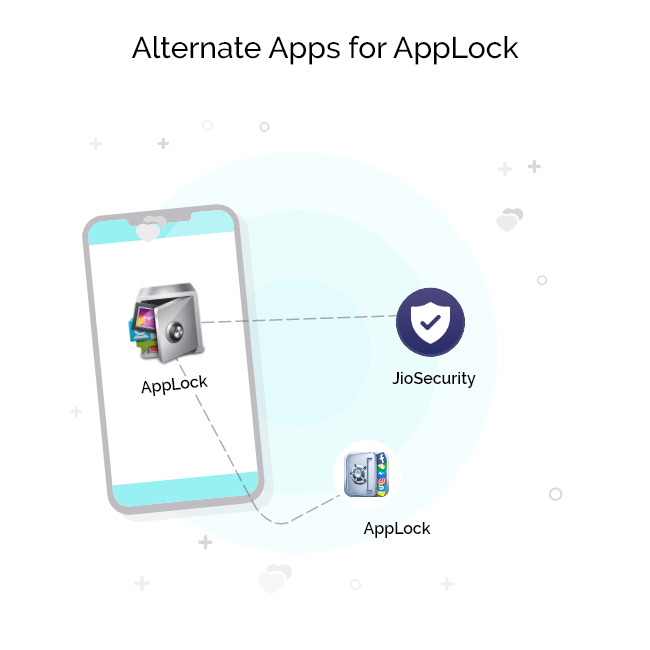 Security and privacy are major concerns for smartphone users all over the world. There is so much confidential information that you want to safeguard and restrict unauthorized access so that no one gets to see your personal information. AppLock offers the safety and security of the data in the smartphone in different ways. You can set up a PIN, Password, pattern lock, etc. and safeguard the data using the AppLock.
However, there have been some cases in the past where some bugs were reported in the app. There are flaws in this way that may allow the Cybercriminals to get access to the sensitive data. There is a suitable alternative to this Chinese app and they are as follows:-
JioSecurity: Malware Scan, Antivirus, App Lock Alternatives
This is one of the best Indian apps to safeguard the confidential data in your smartphone and prevent the hackers & cybercriminals from using your private data. This app has multifaceted features that not only safeguard your private data but also provide security to any of the below-mentioned threats:
Disturbance:

You can block the SMS & unnecessary calls and hence avoid the disturbance. You can block the Spam calls as well.

Secure Wi-Fi connection:

  This app finds out the potential threats in a Wi-Fi connection.

Anti-Theft measures:

This app helps you to find the location of your lost smartphone, lock it, and remove the data to avoid the misuse. Also, it makes the alarm ring loudly to alert the people nearby.

Protection from Virus:

This app also helps you to safeguard your smartphone from the Trojans and other viruses during the browsing sessions.

Google play advisor:

This feature allows you to avoid the download of risky apps on your smartphone.

AppLock by Gallery Photos & Videos:

– With a similar name, it is another nice Indian alternative to Chinese apps. It offers complete privacy and security to personal and confidential information in your smartphones. You can even secure the private videos and pics as well in your smartphone and there are multiple options to lock your phone with the help of fingerprint, PIN, Setting up the password, etc.
Conclusion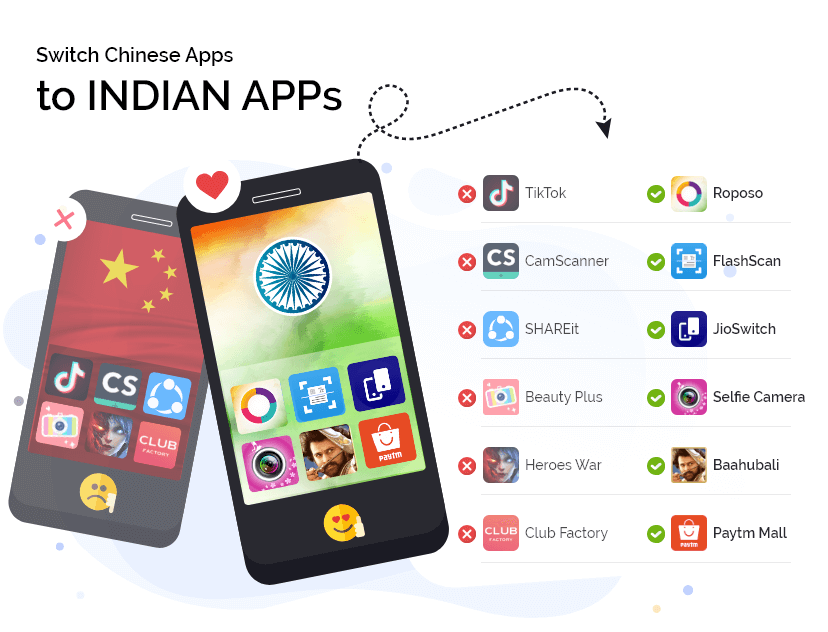 Gone are the days when the Chinese apps were dominant. Though the Chinese apps offer a variety of features, data security issues & other threats became critical concerns for the users. Additionally, post-COVID, around the world there is an anti-China sentiment and especially India is promoting the locally made products and the vision is to reduce the dependency on China.
Do not worry at all. You have adequate and suitable alternatives for the Chinese apps and you can choose the one that suits you and your preferences. This way you can be assured of the privacy of your confidential data and also promote the Indian products & services!
Remy is a technical writer at TechPout. Being an IT enthusiast, he inclines to write about contemporary technology and growing security for machines. One steadfast follower of Baseball, Remy is an active social worker and a gastronome.
Subscribe to Our
Newsletter

and stay informed

Keep yourself updated with the latest technology and trends with TechPout.
Related Posts