Top 5 Awesome Duplicate Photo Finder Alternatives

If your system is stuffed with lots of similar photos then the best duplicate photo finder and cleaner is what you need. With this kind of application, you can delete all the duplicate or similar pictures from your system. These duplicate pictures not only occupy a lot of storage space but even make your system sluggish than usual.
Probably, for many users, Awesome Duplicate Photo Finder is a top-notch preference for finding and deleting duplicate photos. However, the application has a huge fan base. But, irrespective of its robust features and functionality it starts lagging. A dedicated duplicate image cleaner and remover software improves the performance level of the system as well. But this software lags in enhancing the performance pace. Along with it, the application is not a good choice for commercial use. But, no worries, here are the top 5 alternatives of this application that you should know.
Top 5 Alternatives To Awesome Duplicate Photo Finder
Have a look at the below mentioned 5 best alternatives to Awesome Duplicate Photo Finder!
1. Quick Photo Finder
Rating: 4.6
Compatibility: Windows 7, 8 and 10
On this rundown, the first best duplicate finder and cleaner software that you should try is – Quick Photo Finder. With this application, you can be able to remove all the dupe shots without any sort of hindrance. The application comes in two renditions i.e, free or premium. However, you can use the free version for finding and deleting the duplicates. But, to do the same task in just a couple of clicks you have to rely on its premium version. Apart from this, the application improves a massive amount of storage space.
Read Also: How To Delete Duplicate Photos On Windows 10 Computer
Key Features of Quick Photo Finder:
The application offers quick and reliable scan results.
It provides a ton of filters to customize the scan results as per your preference.
It offers full assistance & a 60-day money-back guarantee to its premium users.
For easy navigation, the application provides group-based scan results.
It offers simple tutorial videos to instruct users on how to identify and delete duplicate pictures.

---
2. Anti-Twin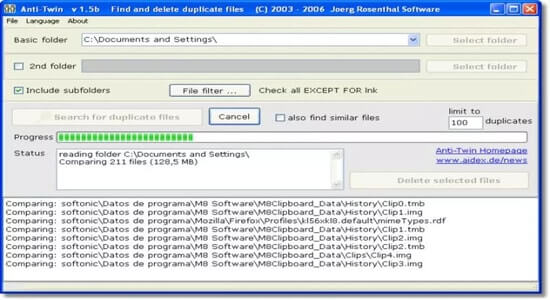 Rating: 3.9
Price: Free
Compatibility: Windows 2000, XP, Windows 7, 8, or 10
Find and delete the duplicate files pretty easily and quickly with Anti-Twin. It is the application that increases the hard-disk space on your system. After finding all the duplicate or identical photos the application either transfers them to the recycle bin or deletes them permanently. Apart from this, you can use this application at no cost. This application also helps you in deleting the chaotic file repositories in your organization's network. Keep your PC free from the unnecessary identical images with the help of this tool.
Key Features of Anti-Twin:
Simple navigation to the controls for deleting duplicates.
Quick and accurate scan results.
Impressive user interface.
Frees up a large amount of storage space.
Comes with a built-in performance booster to raise the performance bar.
---
3. Duplicate Cleaner Free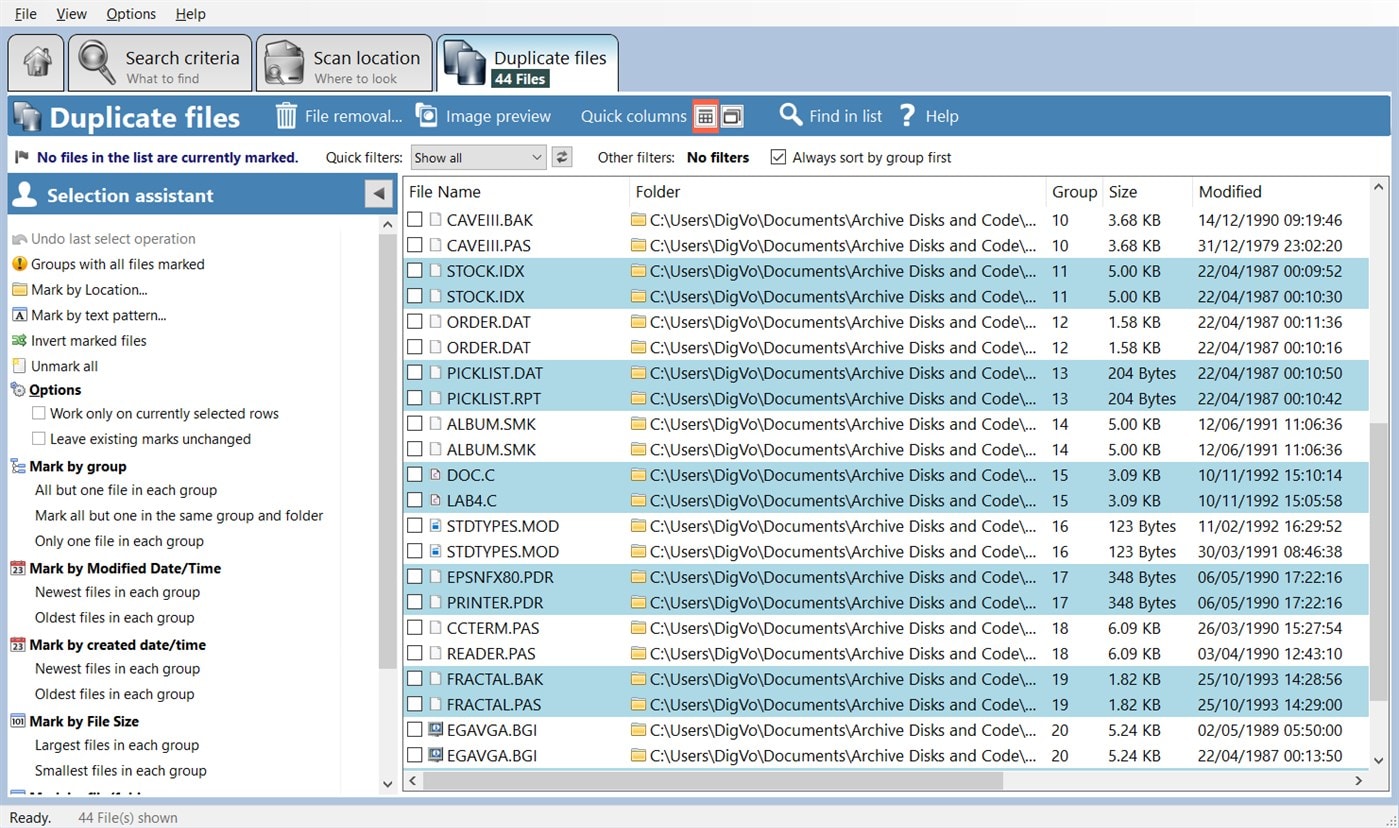 Rating: 3.7
Price: Free
Compatibility: Windows 8 or higher versions
For Windows PC, Duplicate Cleaner Free is the best software for finding and removing duplicate pictures. Whether it is about finding identical documents, music files, videos, or pictures – the application will detect them all. The tool scans faster even for large data sets. The tool is not only dedicated to delete the duplicates, despite this the application is highly capable to rename, link or move the files.
Read More: Awesome Duplicate Photo Finder Review 2021
Key Features of Duplicate Cleaner Free:
Not all the free duplicate cleaner tools offer lots of removal options but it does.
It has a separate photo preview window.
Attractive and easy to use User Interface.
Also, presents you with a short review of what it has detected.
Apart from removing the duplicates, it allows you to rename, move, or link the files too.
---
4. Easy Duplicate Finder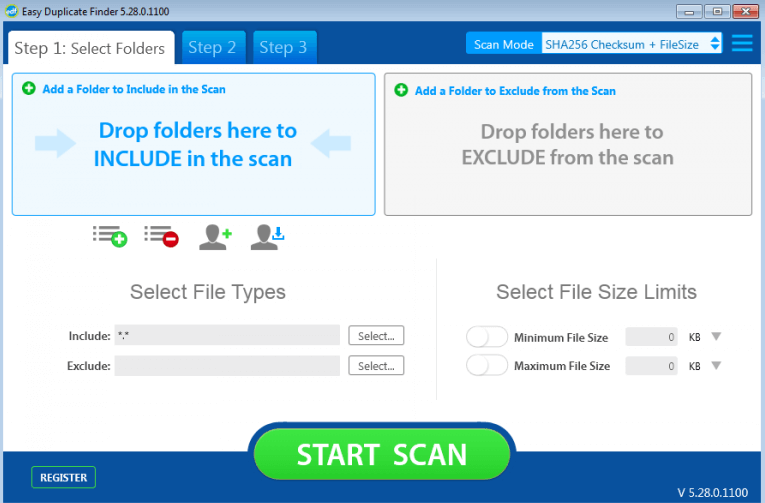 Rating: 4.2
Price: Free to try, $39.95
Compatibility: Windows 7, 8 or 10
As its name suggests, the application is an easy yet productive solution to detect and delete duplicate files from the Windows PC. However, it is also available on Macs. It is the award-winning best duplicate photo finder software. With this tool, you just need to click on the Start Scan button to commence the scanning for the dupe shorts. Later on, the program will directly sort the search results into groups for quick administration.
Key Features of Easy Duplicate Finder:
Its upgrade version lets you remove all the duplicates within a click.
Highly compatible with all the major image formats including RAW and PSD.
The tool allows you to preview the pictures before you delete them.
It shows you how much space the dupe shot covers up.
Has lots of flexible options to manage duplicate pictures.
---
5. Fast Duplicate File Finder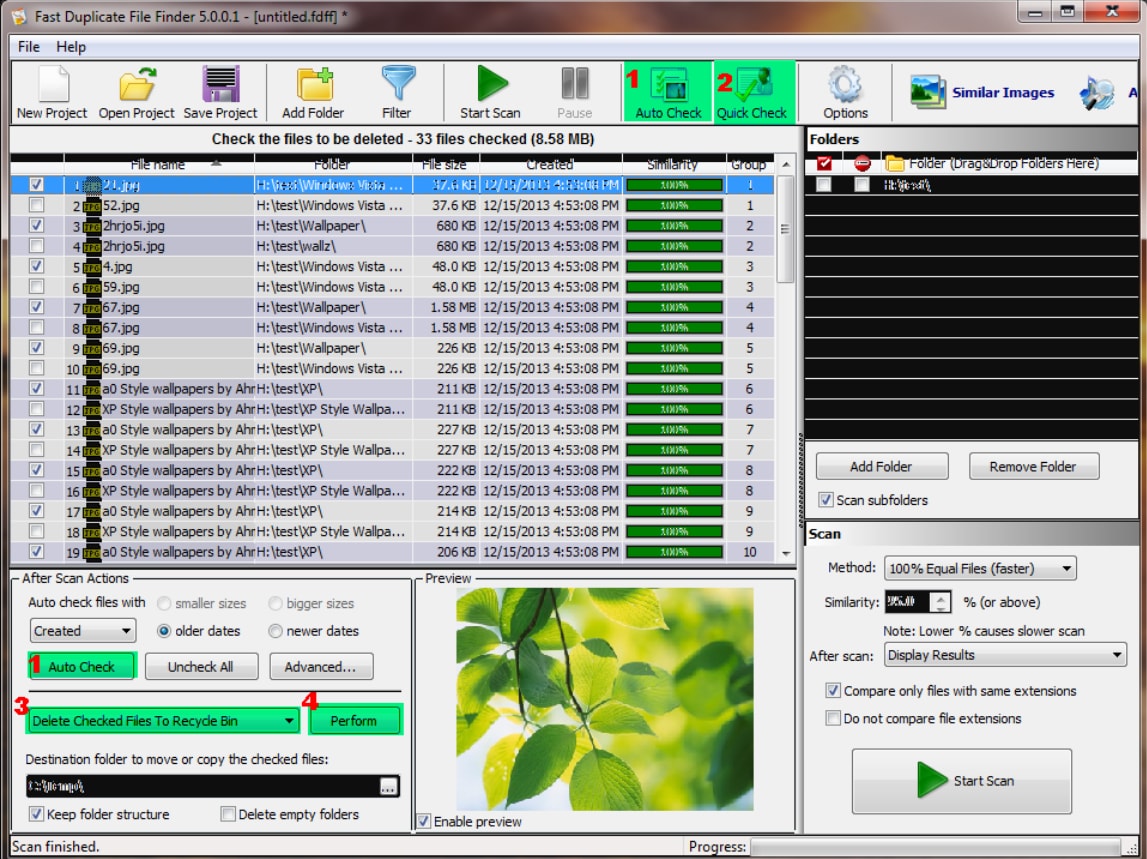 Rating: 3.9
Price: Free
Compatibility: Windows XP, Vista, Windows 7, or higher versions
It doesn't make any sense how perfectly you organize your data, still, you have ended up with hundreds of duplicate files, mainly pictures, and videos. Earlier, having duplicate pictures was the biggest nightmare because it was the next to impossible task to find and delete the redundant files. But, after the arrival of the Fast Duplicate File Finder, it is just a matter of moments. It is a handy software that scans for the duplicates inside the selected directories and in just a couple of clicks allows you to delete them too.
Read More: How To Delete Duplicate Photos in Google Photos
Key Features of Fast Duplicate File Finder:
Quickly scans for the duplicate pictures.
Provides accurate scans instantly.
Equipped with an in-built image viewer program to see the duplicates before removing them permanently.
Has an Auto-check tool for automatically choosing the copy of every duplicate file.
---
Which is the Best Alternative to Awesome Duplicate Photo Finder?
In sum, above mentioned were the top-rated alternatives that you should give a try. However, if you are in a dilemma in choosing the best duplicate photo finder software then here is an experts' recommendation. According to the features a duplicate photo cleaner has to offer, we would like to say that Quick Photo Finder is the best alternative to Awesome Duplicate Photo Finder. It helps you in finding and deleting all the duplicates within just a click. Moreover, it accelerates the performance speed of an overall system as well. Well, that is our suggestion, still, the final decision will be completely yours. So, choose wisely!
That's all if you have any suggestions then feel free to share them in the comment box below. Also, do not forget to subscribe to our Newsletter to stay informed.
Harshita Sharma is a technical writer with quite a distinct understanding of the tech realm. She is a tech enthusiast who believes that tech knowledge should reach one and all and tries to convert the sketchy knowledge into the simplest possible form for making people understand the tech world better. When not playing with words, she loves to travel and explore new places. And, is a coffee & cricket connoisseur.
Subscribe to Our
Newsletter

and stay informed

Keep yourself updated with the latest technology and trends with TechPout.
Related Posts