PL2303 Driver Download for Windows 11/10
Published Date :
Mar 22, 2023

Get the PL2303 driver downloaded for Windows 10/Windows 11 to avoid problems with the device. This article brings to light the quickest and easiest ways to do it. 
PL2303 is an accessory to connect RS-232 serial devices to a Windows host computer equipped with a USB. It functions as a bridge between DB 9-pin male serial port connector and Type-A USB plug connectors. However, without a PL2303 driver, it may not work according to your expectations and cause multiple problems.
Therefore, this article focuses on how to download, install, and update the PL2303 driver for Windows 10/11.
There are several easy ways to do it. Without wasting highly-precious time, let's look at each in detail.
Simplest Way to Download & Install PL2303 Driver for Windows 10, 11
If you are unable to find the correct driver for your Windows PC, then you can use Bit Driver Updater. It is a globally recognized driver updating tool, that deeply scans your device for outdated or broken drivers, and provides new compatible drivers. And, Bit Driver Updater takes only 1-simple click to install all the latest PC drivers simultaneously. To give it a try for free, you can click on the download link given below.

How to Download, Install and Update PL2303 Driver
You may follow the below ways to download the PL2303 driver, install, and update it on Windows 11 and 10.
Method 1: Download and install the PL2303 driver update from the Prolific website
The website of Prolific releases the required drivers on its official website. You can implement the following steps to get the USB to UART RS232 Serial Windows driver downloaded from there.
Travel to Prolific official website.
Hover over the Products Application tab.
Now, place the mouse pointer on the SIO (Smart-IO) option present in the drop-down menu you get.
Select USB to UART/Serial/Printer from the menu appearing on your screen.
Now, look for your device, i.e., PL2303 Windows Driver Download.
Click on the installer to download the needed driver file.
Double-click on the downloaded installer to unzip and run it.
Follow the instructions visible on your screen to finish installing the PL2303 USB to Serial driver.
Also Read: Prolific USB to Serial Driver Download and Update
---
Method 2: Use Device Manager to download the PL2303 driver for Windows 10/Windows 11
You may use your computer's in-built driver management tool, i.e., Device Manager to get the updated Prolific PL2303 driver for Windows 10/11. Below are the complete directions to install the required drivers this way.
Use your computer's search function to find and open Device Manager.
After the Device Manager appears, click on the section of Ports to view it in its expanded form.
Right-click on your Prolific PL2303 device and choose the Update driver from the options given on your screen.
Search automatically for updated driver software.
Restart the computer once the update process is complete.
---
Method 3: Update your computer's operating system
Updating the operating system often downloads the needed drivers and updates the old drivers. You can follow this way to download the PL2303 driver as well. However, if the driver is very newly released, Windows may not be able to detect and install it on your computer. Still, you may give this method a try by following the below steps.
Right-click on the Windows (Start) icon on your computer to get the Quick Access menu.
From the on-screen menu, pick the Settings option.
From the options available on the Settings panel, choose Update & Security.
Select the option to Check for updates. 
Download & Install the update you find for your operating system.
After you have downloaded and installed the required update, restart the system.
Also Read: How to Update Drivers on Windows
---
Method 4: Download the PL2303 driver for Windows 10/Windows 11 automatically (Recommended)
Above, we acquainted you with the manual ways to download the Prolific PL2303 USB to Serial driver and install it on your computer. These methods, as many users feel, consume a lot of time, effort, and energy.
Hence, if you wish to download and install driver updates more conveniently, we suggest using a program like Bit Driver Updater to do it automatically.
Bit Driver Updater downloads all the needed driver updates and installs them automatically with one click. In addition to this, the software comes packaged with many outstanding features, like backup and restoration of drivers, scheduled scanning for old drivers, acceleration of the speed of downloading drivers, and more.
You can download Bit Driver Updater and perform its installation from the following link.

After Bit Driver Updater's installation completes, within a few seconds, it displays a list of old drivers. You click on the Update All button present at the bottom to download the updated version of all drivers.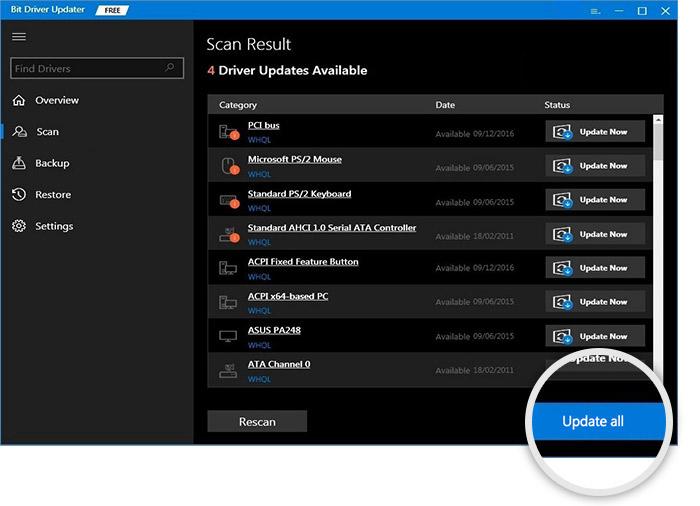 You can also use the Update Now feature if you intend to download only the PL2303 driver for Windows 11/Windows 10.
However, in tech experts' view, it is more appropriate to update all drivers for smooth computer performance.
If you have any doubts even after going through the above methods, you can take a look at the following section of commonly asked questions to clear them.
---
Frequently Asked Questions
Below we clear all doubts you may have about the PL2303 driver.
Q1. What is a PL2303 driver?
The Prolific PL2303 driver is the specific driver and is required to effortlessly work with the PL2303 USB to Serial adapter or controller in Windows 10/11. The driver provides a bridge connection with a standard DB 9-pin serial port connector on one end and a standard Type-A USB plug connector on the other end.
Q2. How do I download a serial driver to my USB?
You may follow these directions to get a serial driver downloaded to your USB.
Download the driver file from the manufacturer's website.
Locate and unzip USB_serial_win. Zip.
Launch the Device Manager.
Find the adapter and double-click on it.
Choose the install driver from the disk.
When prompted, select the right driver for your OS.
Q3. Do USB to serial adapters need drivers?
Sometimes, the device for a few USB-to-Serial cables is not installed by default on a 64-Bit OS. Such cables are unassigned device drivers that need manual installation.
Q4. Does a serial port need a driver?
A driver provides the necessary functionality for the serial ports and COM ports to work on your computer. Hence, it is necessary to have the driver installed on the device.
Q5. Which PL2303 Driver Does Not Support Windows 11?
PL-2303HXA/TA/TB/HXD/RA/SA/EA (EOL chip version) is not supported in Windows 11.
Q6. How to Install Prolific PL2303 Driver On Windows 11?
You can use Microsoft Windows' in-built tool Device Manager to quickly install the latest Prolific PL2303 driver updates on Windows 11. To do that, simply follow the steps below:
Run Device Manager
Double-click on the Ports to expand it.
Find and right-click on the Prolific PL2303 device.
Choose Update Driver Software.
Next, select Search Automatically for Updated Driver Software.
Reboot your PC once the available drivers are installed.
Also Read: How to Update Drivers Using Command Prompt in Windows
---
PL2303 Driver Downloaded and Installed
Through this article, we introduced you to various methods to download the PL2303 driver for Windows 10/11 and install the same. You may follow any above-mentioned way to do it.
If you want to download and install the driver automatically in no time, we suggest using Bit Driver Updater to do it.
In case you know better ways to get the needed driver, you may share your knowledge using the comments section.
We will return soon with another tech how-to guide. Until then, you may explore TechPout to expand your technical knowledge.
Niharika is a passionate soul who finds immense satisfaction in putting all her thoughts in writing. Being a technology enthusiast, she loves learning new things about tech and making everyone technologically literate through her articles. When not composing tech articles, you can find her bringing characters to life in her fictional stories, reading something intriguing, or spending time with her near and dear ones.
Subscribe to Our
Newsletter

and stay informed

Keep yourself updated with the latest technology and trends with TechPout.
Related Posts