Nahimic Audio Driver Download and Update for Windows 10, 11
Published Date :
Dec 11, 2022

This article acquaints you with 4 quick and easy ways to get the Nahimic audio driver for Windows 10/11 downloaded, installed, and updated.
Nahimic driver boosts gaming audio to give users an enhanced and optimized experience. However, it may malfunction and show signs of degraded performance if you do not update it for Windows 10/11.
Therefore, through this article, we share the best possible methods to download the Nahimic driver (if not already present), install, and update it. Let us begin with them without dilly-dallying any longer.
Methods to Download, Install and Update the Nahimic Driver
You may follow the below-given ways to download and install the updated Nahimic driver for Windows 11/10.
Method 1: Download the Nahimic driver from the official website
The official website of your motherboard manufacturer is one location from where you can download the latest Nahimic driver for Windows 10/11. To do so, you may follow these steps.
Navigate to the website of your motherboard manufacturer.
Search for the Nahimic drivers compatible with your operating system.
Download the driver's installation file.
After downloading the driver installer, double-click on it and follow the instructions to finish the driver installation.
Also Read: How to Update Audio Drivers on Windows 10 and 11
---
Method 2: Use Device Manager to download the Nahimic driver update
The Device Manager is an in-built mechanism in Windows allowing you to download and install various driver updates. Below is the step-by-step way to use it to get an update for the Nahimic audio driver installed for Windows 10/11.
Right-click the Windows icon on the taskbar and choose Device Manager.
Click the category of Sound, video, and game controllers to expand the same.
Right-click your sound card and select the option called Update driver.
Search automatically for updated driver software. Windows 11 users may try to Search automatically for drivers.
Once the updated Nahimic audio driver is downloaded and installed, you may restart your computer to let it take effect.
---
Method 3: Update your OS to get the needed driver
Downloading and installing operating system updates also downloads and installs the required drivers (if they are not extremely recent). Hence, you may try the below steps to get the Nahimic driver for Windows 10/11 through an operating system update.
Right-click the Windows icon and select Settings from the on-screen menu.
Choose the settings for your device's Update & Security.
Click on the button that lets you Check for updates.
Download & install the update available to you.
Finally, you may get your computer restarted to let the update take effect.
Also Read: How to Update Audio Drivers on Windows 10 and 11
---
Method 4: Download the Nahimic driver update via Microsoft Update Catalog
Microsoft Update Catalog offers almost all needed drivers for download and update. Below is the process to get the Nahimic audio driver update for Windows 10/11 from there.
Travel to Microsoft's Update Catalog.
Search for Nahimic drivers.
Select Download for the required driver.
Now, select the link that you get in the pop-up window.
Click twice on the file that becomes available on your computer.
Now, you may follow the directions on your screen to finish the Nahimic driver installation.
---
Method 5: Download the Nahimic audio driver update automatically (Recommended)
Until now, we guided you through all the manual approaches you can follow to get the latest driver downloaded and installed. As you may agree, manually downloading and installing driver updates requires a lot of patience, effort, technical knowledge, and time.
Hence, we find it better to download and install driver updates automatically through Bit Driver Updater. The Bit Driver Updater program updates all drivers with one click.
Moreover, this software comes equipped with useful features like the creation and restoration of driver backups, acceleration of the speed of downloading drivers, scheduling of scans for out-of-date drivers, and more.
You may experience all the features and benefits of Bit Driver Updater yourself through the link below.

After the download and installation, the software scans your device for a few seconds to present a list of outdated drivers. You may click on the button to Update All these drivers instantly.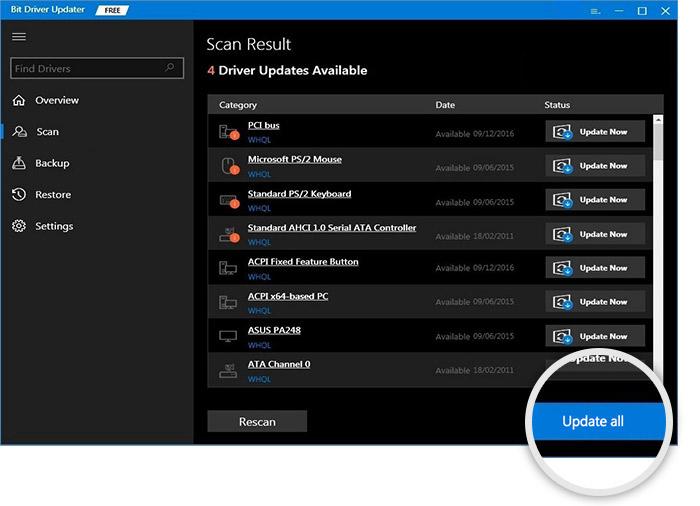 There is also an Update Now tool you may use to update only the Nahimic driver. However, we recommend updating all drivers to get smooth performance from your computer.
Also Read: Best Free Driver Updater for Windows
---
Nahimic Driver Update Downloaded and Installed
This article walked you through different methods to download the updated Nahimic audio driver and install it. You may follow the method you think is the most convenient for you.
However, if you want to save precious time and effort, we recommend updating drivers with Bit Driver Updater. If you know other time-saving methods to download and install driver updates or have any questions, you may write them in the comments section.
Niharika is a passionate soul who finds immense satisfaction in putting all her thoughts in writing. Being a technology enthusiast, she loves learning new things about tech and making everyone technologically literate through her articles. When not composing tech articles, you can find her bringing characters to life in her fictional stories, reading something intriguing, or spending time with her near and dear ones.
Subscribe to Our
Newsletter

and stay informed

Keep yourself updated with the latest technology and trends with TechPout.
Related Posts