Microsoft Bing Team Launches COVID-19 Tracker Globally

Microsoft has recently launched a coronavirus tracker. It is actually a news and information portal that contains each and every information related to the viral outbreak and the total number of COVID-19 infections. This information is updated on a regular basis.
The widespread Coronavirus has turned into a pandemic and the Microsoft Bing team has launched a unique website that covers every minute detail regarding the virus.
The website provides up-to-date statistics on a global scale as almost every country is shrouded with COVID-19. The main motto of this website is to provide news surrounding the coronavirus and these:
Total number of active cases
Total number of recoveries
Total number of fatalities
Microsoft's COVID-19 tracker is a complete web portal and revolves around the global happenings regarding the virus. This ultimate news portal currently registers the information mentioned below. The information is on a global scale and it is updated from time to time:
168,835 confirmed cases
84,558 active cases
77,761 recovered cases
6,516 deaths
Michael Schechter, GM, Bing Growth and Distribution, Microsoft said, 'Lots of Bing employees who are working from home created a working road-map and trustworthy news portal regarding this coronavirus.' This was a ZDNet report this Sunday. 
The website is completely informative and contains a user-friendly globe interface. The website visitors can easily check for the news of a particular country by clicking on that country. All the news, reports, lock-downs, total number of cases and all the related news articles.
Read Also: Facebook Bans Face Mask Ads to Prevent Coronavirus Exploitation
Where Does COVID-19 Tracker Get All the Data From?
It is of utmost importance that this tracker from Microsoft gathers news and information from trusted sources only. Some trustworthy sources include the World Health Organization, US Centers for Disease Control and Prevention and European Centre for Disease Control and some other local health bodies.
The Microsoft COVID-19 news portal gathers information about these:
All the data and concrete intel such as news about the shutdowns, 
Lock-downs of schools, museums, tourist attractions and more.
Recent cases of coronavirus
Confirmed cases where people have been tested positive and some have recovered
Fatalities and deaths worldwide
Active cases of the coronavirus
Related news about schools, COVID-19 affecting business, Tech Industry, and product launches
Articles related to Coronavirus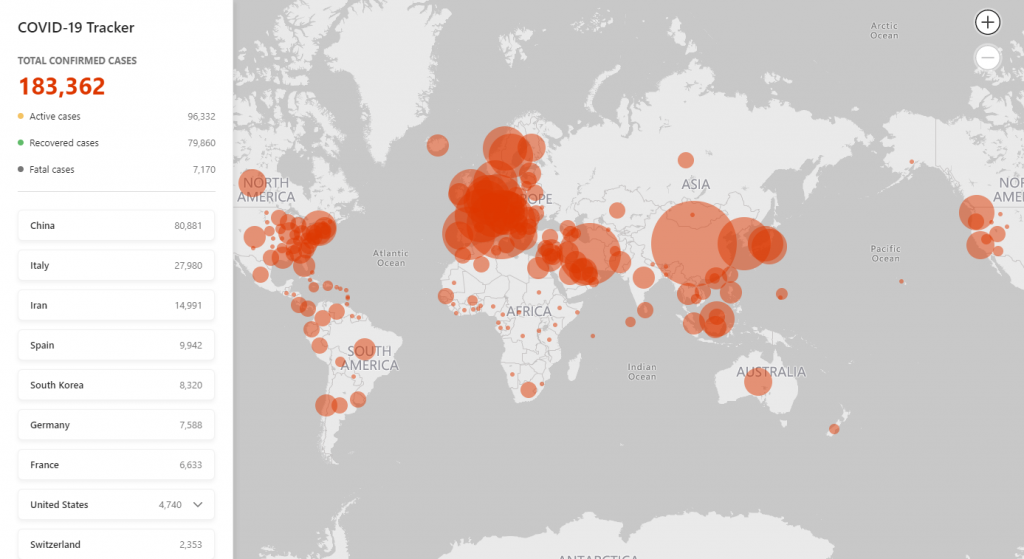 One can easily check out for the affected areas, related news articles, cases just by clicking on a particular region or a country.
Microsoft is on a Helpful Spree
It seems that Microsoft does not want to stay behind when it comes to providing information about this epidemic that is slowly engulfing the world economy. Microsoft had already canceled its tech event MVP Global that was to be held in Redmond. It seems that Microsoft is trying to help the world by providing updated information regarding the coronavirus.
Studies say that this COVID-19 tracker was announced just 2 days after Donald Trump said Google will soon launch the coronavirus related portal for the UC citizens.
'Google has already started the procedure of research', Trump added.
Google Is Developing Its Own Coronavirus Nationwide Tracker
Google's very own COVID-19 tracker website will be powered by Verily. Verily is a subordinate of Alphabet that focuses on healthcare services. The company is currently developing a nationwide website.
During a press conference, Trump said 'Above 1700 tech specialists are working on the website and Google will soon come up with its own tracker.'
On the first hand, there was some confusion regarding the launch of Google's own coronavirus tracker. The company announced that it is joining hands with the US Government to develop a website that will include information regarding the symptoms, risk factors, catalysts that speed up the spread and test information.
Jay is an incredible writer who loves to give life to words. He is always carrying out some research and likes to keep himself updated with the happenings around him. Writing runs in his blood makes him happy. When not working, you can find him singing, composing poetry, writing horror stories, playing action games on the laptop and munching on food.
Subscribe to Our
Newsletter

and stay informed

Keep yourself updated with the latest technology and trends with TechPout.
Related Posts