Logitech G402 Driver Download and Update in Windows 11, 10

Read to know about the three non-cumbersome methods to download and update the Logitech G402 driver on Windows 11, 10.
Logitech G402 is an excellent and power-packed computer mouse with a fantastic frame per second rate that activates or displays your response on the computer screen the moment you click a button on your mouse. This intelligent mouse also moves and responds as you act, but you would only notice the difference while playing video games online utilizing the STEAM interface.
Unlike others, this computer mouse has eight programmable buttons instead of three. It possesses a 32-bit ARM Processor which provides the best experience for playing. This gaming mouse gives the highest tracking speed of up to 500 IPS.
And, it's worth noting, that the Logitech G402 mouse device will only function when you have the compatible and latest version of the Logitech G402 driver installed on your computer system. Plus, you should also update the installed drivers from time to time in order to avoid numerous issues while playing new and high-end games.
This post walks you through the easy but effective ways to perform Logitech G402 driver download in Windows 11/10.
3 Methods to Download, Install and Update Logitech G402 Drivers in Windows 11, 10
The compatible and correct driver download for Logitech G402 can be found in three ways. Let's read them below:
Method 1: Manually Install Logitech G402 Driver from Official Website
The first and safest way to carry out the installation process for the Logitech G402 drivers is to visit the official website of Logitech. But, do remember, this is only possible when you have the complete details about the operating system you are using.
However, if you download a driver on guesswork or speculation, you might end up bricking the system. In short, this method involves a certain amount of risk factors and requires good technical knowledge. If you're all set to take this risk, then below is how to perform Logitech G402 driver update this way:
Step 1: Go to Logitech's official website.
Step 2:  Then, head to the SUPPORT tab then click Downloads to proceed.
Step 3: Next, click on MICE AND POINTERS.
Step 4: Search for the model number of your mouse and click on the same.
Step 5: This will invoke a new window, where you need to click on Downloads from the left menu pane and then make a click on Download Now.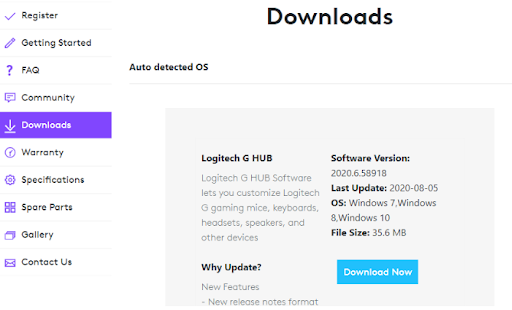 Step 6: Wait and let the process be completed.
Step 7: Once everything is done, follow the instructions on your screen to successfully install the Logitech G402 driver update. Lastly, reboot your computer system to implement the changes.
Also Read: How to Download and Update Logitech G502 Driver for Windows
---
Method 2: Update Logitech G402 Driver in Device Manager
The Device Manager is a utility tool offered by Microsoft in Windows operating systems. This tool assists Windows PC users to update the corrupted, missing, and obsolete drivers. The Device Manager thoroughly scans your system and then contacts the Microsoft Server and other manufacturer's websites for the latest version of the drivers. Below shared are the steps to download the Logitech G402 driver for Windows 11 and Windows 10:
Step 1: On your keyboard, press Windows and R keys at once in order to open Run Terminal.
Step 2: Type devmgmt.msc in the Run terminal window and press Enter.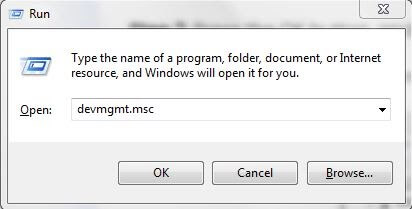 Step 3: This will launch Device Manager on your screen, here you need to look for Mice and other Pointing Devices category and double click on the same to expand its category.
Step 4: Find and right-click on your mouse. Then choose Update Driver Software from the context menu list.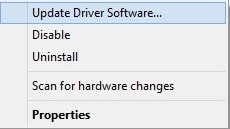 Step 5: From the next prompt, select the option that says, 'Search automatically for updated driver software. This will begin the process of finding and installing the latest updates.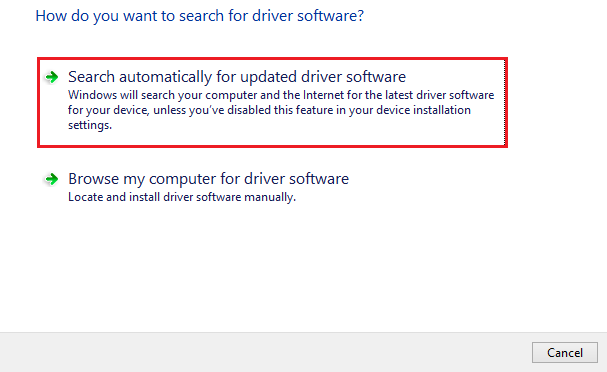 Follow the on-screen instructions to finish the process. Once done, reboot your PC to save new changes.
---
Method 3: Use Bit Driver Updater to Automatically Download Logitech G402 Driver (Recommended)
Using driver updating software is one of the most convenient methods of performing any driver update on your Windows PC. Such tools are specially designed for simplifying the entire process of searching and identifying the most compatible drivers on your device. Within a couple of clicks, your PC can be free of any driver-related issues like outdated, corrupted, and missing drivers. So, if you don't have expertise in the technology niche, you can use any reliable driver updating program. However, there is a wide range of driver updating software available, but we strongly recommend using Bit Driver Updater.
Bit Driver Updater is a globally acknowledged smart driver updater that automatically detects your system configuration and finds the most relevant drivers for it. This means, you actually don't need to know the exact device details or system configuration. Plus, there is no risk of downloading and installing the wrong drivers. What's more, before installing the latest driver updates, Bit Driver Updater automatically creates a complete backup of existing drivers. Plus, allows you to add incorrect or incompatible drivers to the exclusion list of drivers.
Bit Driver Updater is available in both pro and free versions. Using the pro version, you can update all outdated drivers in just 2 clicks. Whereas, with the free version, you'll need to update each device driver individually. Also, the pro version comes with 24*7 technical support and a 60-day full money-back guarantee.
Listed below are the simple steps to update the Logitech G402 driver through Bit Driver Updater:
Step 1: Download and install Bit Driver Updater.
Step 2: After installing, run the driver updating tool on your system and click on the Scan button from the left menu pane.
Step 3: Wait for the scanning to complete.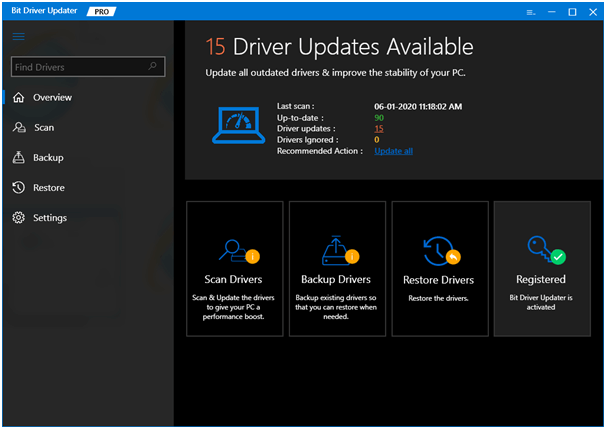 Step 4: Check the scan results and click on the Update All button to perform bulk driver downloads at once. (If in case you are using the free version, then you will be prompted to purchase the pro version.) In such a situation, click on Update Now adjacent to the Logitech G402 driver or any other driver you want to update.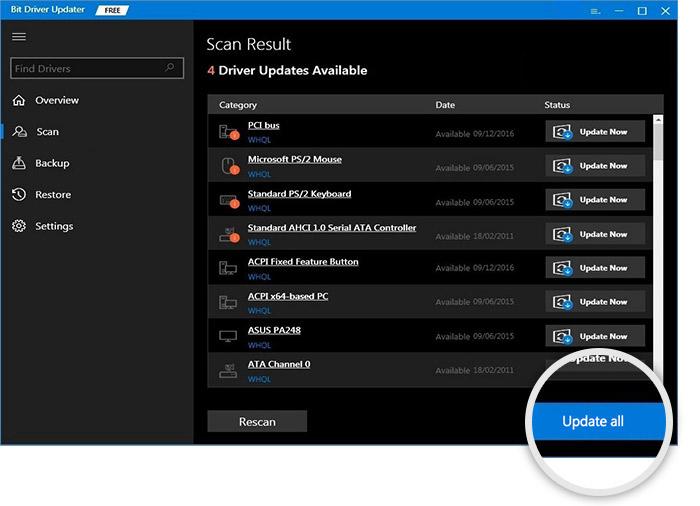 Step 5: Sit back and relax until the process finishes.
Step 6: Reboot the computer to apply recent changes.
Note: Besides outdated or corrupt drivers, there can be other reasons as well that can cause issues to your Logitech G402 mouse. To make sure that, check the connection between the Unifying receiver and the mouse. Using Logitech G402 mouse software is recommended. Apart from that, it is advisable to check the battery, take it out for 30 seconds at least, and then insert it again or replace it with a new one. Last but not least, you can also try to change the USB ports and check if that works for you.
Also Read: Logitech G27 Drivers Download and Update for Windows
---
How to Download and Install Logitech G402 Driver in Windows 11/10: Explained
That's all! We hope you found this guide helpful and the above-shared methods easy to use in order to find and download the Logitech G402 driver on Windows 11/10. Please feel free to drop your queries and further suggestions in the comments section below.
Do subscribe to our Newsletter for more useful tips and technology-related articles. Moreover, you can also follow us on Social Media: Facebook, Twitter, Instagram, and Pinterest.
Harshita Sharma is a technical writer with quite a distinct understanding of the tech realm. She is a tech enthusiast who believes that tech knowledge should reach one and all and tries to convert the sketchy knowledge into the simplest possible form for making people understand the tech world better. When not playing with words, she loves to travel and explore new places. And, is a coffee & cricket connoisseur.
Subscribe to Our
Newsletter

and stay informed

Keep yourself updated with the latest technology and trends with TechPout.
Related Posts