iPad/iPhone screen won't rotate? Nothing to worry about, this post can help. In this blog post, you'll learn several tested & tried solutions to fix this issue. Read an entire article for a better understanding.
Auto-rotating is one of the coolest features of the iPhone, iPad, or iPod touch. This feature works on the basis of how you are holding or carrying the device. The feature helps you manage the applications or home screen in portrait or landscape mode. To be more specific, landscape mode on iOS devices is a screen's horizontal orientation and the portrait mode of the screen is displayed vertically. The rotation lock enables you to make a switch on apps or the home screen vertically or horizontally, without any hassles.
But, sometimes, when you access your iPod touch, iPad or iPhone, the screen doesn't rotate. However, this is a very common issue but can also make your device difficult to try or may even make you assume that your mobile phone is damaged or broken. The good news is, that there are a few hacks available that you can consider to fix the iPad/iPhone screen not rotating issue.
Why Won't My iPhone Screen Rotate?
There could be multiple reasons that cause the iPhone screen not rotating issue. Below are the core ones:
Maybe screen rotation lock settings prevent your iPad, iPhone, or iPod touch from auto-rotating.
The display zoom feature is enabled.
Possibly specific apps don't support the screen rotation feature.
Misconfigured or incorrect device settings
---
How to Rotate Screen on iPhone?
Below are the steps to rotate the screen on an iPhone without a Home button.
Step 1: Open the iOS Control Center by swiping down from the upper right corner of the screen.
Step 2: Tap on the Portrait Orientation Lock button to ensure that it is disabled.
Step 3: Turn your device sideways.
Tip: If your screen still does not rotate, then we suggest you try a different app like Messages or Safari which are well-known to function in landscape mode.
Also Read: iPhone Driver Download and Install for Windows 11, 10, 8, 7
---
How to Fix iPad/iPhone Screen Won't Rotate
Though, the iPad and iPhone screen rotating feature work almost effortlessly based on how you are carrying the device. But if in case your display/screen is stuck in landscape or portrait orientation, here are a few tested and tried tactics that you can give a shot in order to fix it. Now, without further ado, let's get started:
Solution 1: Disable Orientation Lock on iPhone
If your iOS or iPadOS device is stuck in the landscape and won't rotate to portrait even when you hold your device appropriately, then the landscape orientation lock might be the real culprit. Luckily, you can quickly turn off this lock from the iOS Control Center.
If you have an iPhone X-style model with a notch, then swipe down from the upper-right edge of the screen to trigger Control Center.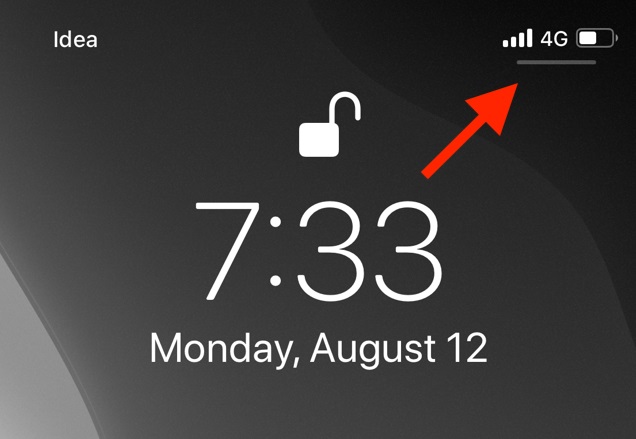 Are you using an iPhone 8 or earlier models? These devices come with a physical Home button, then you need to swipe up from the lower of the screen in order to summon Control Center.
In the iOS Control Center, find the icon that exactly looks like a lock along with a circle.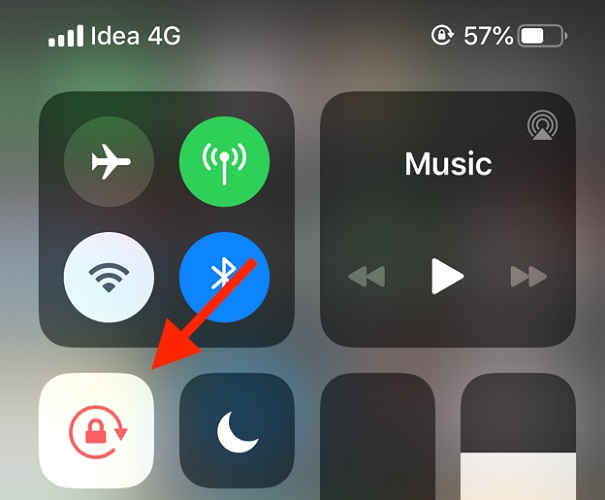 Tap on this icon to disable the orientation lock. Once done, you will get the message on the top saying, Portrait Orientation Lock: Off.
After that, check if the iPhone screen won't rotate issue is resolved. If the issue persists, then move on to the next workarounds.
Also Read: How To Compress Photos On iPhone and iPad
---
Solution 2: Restart the Application
If you are facing the issue even after disabling the Rotation or Orientation lock, then the next thing is to test the application you are using.
If the application is damaged or stuck, you should better try to close and restart the particular application. This might help you get rid of this problem. If the problem was with the application, then you would now be able to rotate the iPad or iPhone screen. But, unfortunately, the iPhone screen won't rotate issue remains the same as earlier, then you should proceed with the other solutions.
---
Solution 3: Restart the iPad or iPhone
If the problem persists across multiple applications, then it might be a glitch or bug with the iPad or the iPhone. Generally, performing a simple reboot fixes such issues. So, on your device (iPhone or iPad), press and hold the volume rocker buttons both up and down, along with the Side button, just to bring up the Slide to Power Off option.
After that, on the Slide to Power Off menu, swipe your finger to turn off the device. Wait for a while, and press the Side button or Sleep/Wake button to switch on the iOS or iPadOS device. Once done, check to see if the iPhone screen won't rotate is fixed. If not, then try the next solution.
---
Solution 4: Reset All Settings
If none of the above suggestions helped you resolve the issue, then you can also reset all the settings of iPadOS or iOS as a last resort. Resetting all the settings will include network settings, Wi-Fi connections, and more. This is an amazing way to bypass unrecognizable iPadOS or iOS bugs; of course, the screen rotation issue is one of them. To do so, all you need to do is just follow the steps below:
Step 1: Launch the Settings app and head to the General, then tap on Reset.

Step 2: Next, tap Reset All Settings to proceed.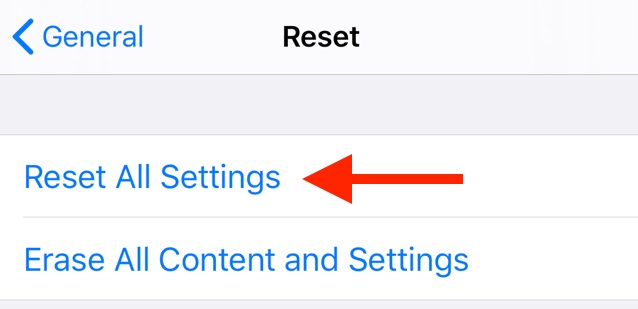 Step 3: On the next screen, you need to type your device passcode to affirm your actions.
Wait for the process to be done, Once your iPad or iPhone reboots, your iPad/iPhone screen not rotating issue should be resolved.
Tip: If resetting all your iPadOS or iOS settings didn't work for you, then we advise you to remove all the associated data before resetting the settings. To do so, you simply need to tap on the Erase All Content and Settings under the Reset menu. Doing so will erase all your apps and personal data, so, we recommend you first take a backup of your data.
Also Read: How to Delete Apps on iPhone and iPad
---
iPad/iPhone Screen Rotation Not Working: Closing Words
Now, that was all about how to resolve the iPad or iPhone screen won't rotate issue in no time. By trying the aforementioned methods, you can easily make your iPhone, iPad, or iPod touch work again and enjoy additional features when your preferred device is in landscape mode.
We hope the guide helps you in the best way possible to get your iPhone device screen rotation back on the right track. Furthermore, if you have any questions or further tips related to the iPad/iPhone screen rotation problem, then please feel free to tell us in the comments below.
Additionally, if you want to read more write-ups related to technology, do subscribe to our Newsletter. Last but not least, you can also stay in touch with us on Facebook, Twitter, Instagram, and Pinterest.
Harshita Sharma is a technical writer with quite a distinct understanding of the tech realm. She is a tech enthusiast who believes that tech knowledge should reach one and all and tries to convert the sketchy knowledge into the simplest possible form for making people understand the tech world better. When not playing with words, she loves to travel and explore new places. And, is a coffee & cricket connoisseur.
Subscribe to Our
Newsletter

and stay informed

Keep yourself updated with the latest technology and trends with TechPout.
Related Posts