How to Password Protect Google Doc
Published Date :
Aug 06, 2019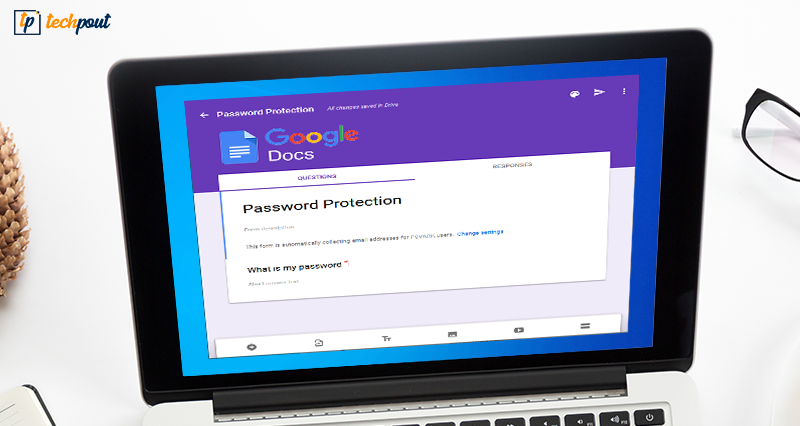 It will be a stone-cold lie if I say that most of the people "don't' store their important data and files in their Google Drive documents. You and I both know how dependent we are on this creation. Even though there are many more cloud storage options in the digital space, Google Drive is the one everyone comes back to quite often.
But sometimes we have some confidential and secretive data stored in our Drive, and we need a way to protect it. 
There are various ways through which you can password protect Google Drive files and documents, but none of them are official. Until now, Google Drive hasn't released any feature to protect or lockdown Google docs. 
How to make a Google doc or file private?
A better way: PDF encryption with Microsoft Office
This method is quite universal and not limited to just Google Drive documents. Password-protecting PDFs is a great way of securing your important data as PDFs can hold anything from documents to scans to pictures. 
It's also a format that both iPhones and Androids manage natively, even in encrypted form with a password.
Using this you can have protected files in Google Drive as well as other Cloud storages too.
Step 1: Click Open in Microsoft Office and select File. Then click on Create PDF/XPS Document. 
Step 2: A new window of Options will open. Now check the box of Encrypt the document with a password. 
Step 3: Another dialog box will open up. In this, a password needs to be entered and confirmed. This way, the file is password protected. 
Password protect through Google Forms: 
Many people have the question "How to make lock or password protect Google Drive?" lurking in their heads. And the answer is-through various unofficial ways. One of the most used and effective ways to secure your Google Drive files is by creating a Google Form.
Step 1: Login into your Google Drive account.
Step 2: Select the file or folder you wish to password protect. Create one and upload it to Google Drive if there isn't one already.
Step 3: Right-click on the chosen file or folder, and click on Share.
Step 4: A new share window will open up on the screen. On the top right-hand side, click on "Get shareable link". This way, a shareable link for the file or folder is generated. 
Step 5: Now, the editing levels need to be checked. Be sure to choose, "Anyone with the link can view". If this is enabled, nobody will be able to edit anything. But if that's not what you want, you can opt for other options in the drop-down menu.
Step 6: After all that is done, click on "Copy Link" and finally on the "Done" button. Now you have a link copied to your clipboard. This would come in handy after some time.
The next few steps are for setting up the Google Form, and subsequently, password protecting the Google Drive file or folder.
Step 1:  On the Drive screen, click on the "New" option, go to "More", and choose "Google Forms".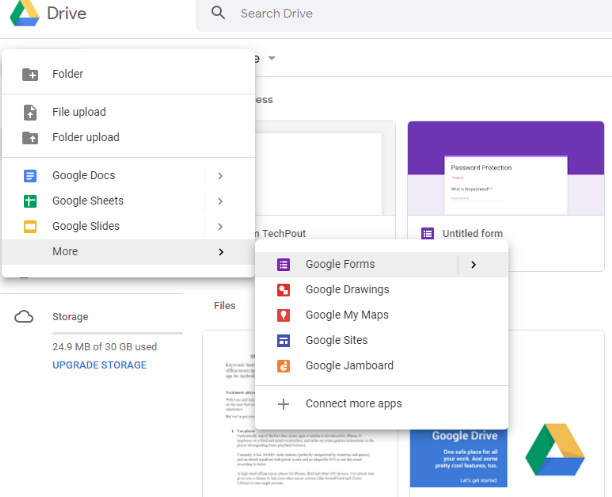 Step 2: Open the Untitled Google Form and give a title to your project. For example, Password Protection. Skip the Form description, if you want.
Step 3: Go to the "Untitled Question" option and enter a question or statement that deems fit to you. You can have something like, what is the password? Do ensure that the box in the right of the question says, "Short answer".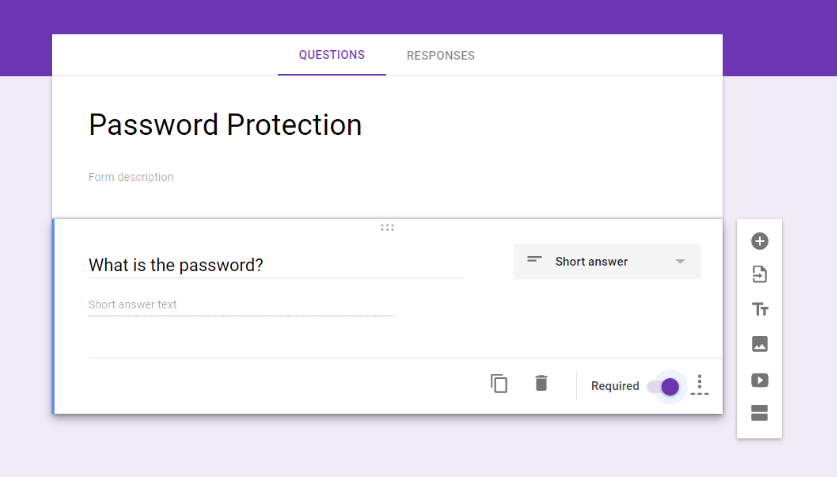 Step 4: After that, go to the right side down the corner and enable the "Required" option. Next, click on the three vertical dots right beside the "Required" option, and choose "Response Validation" from the menu. This is how you'll set the password properties.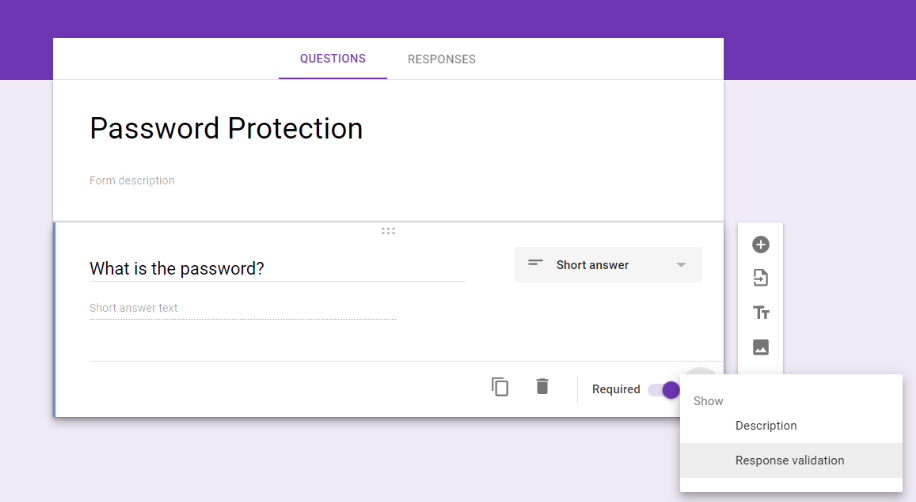 Step 5: Now, the password type needs to be set. For doing that, click on the down arrow (showing Number option) and select whatever type (Text or Number) of the password you want. This time I am taking Text. You can also customize the characteristics if you'd like.
Step 6: Furthermore, you need to set the actual password now by entering it in the 'Text' field. I have set the password as 'Password Lock'.
And the custom error text needs to be entered too. In my case, it is 'Wrong, Try again!'.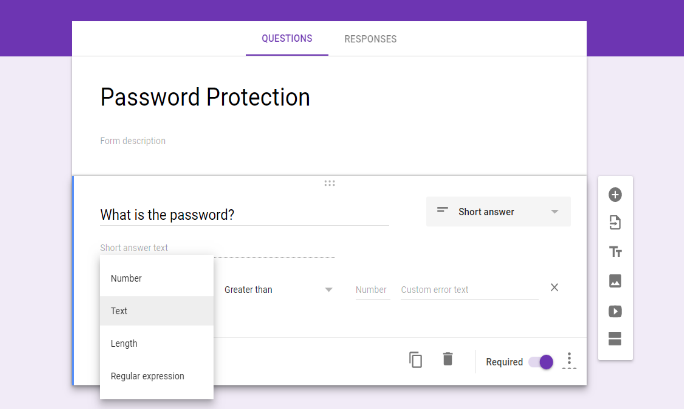 Step 7: After all this, the major work is done. Just click on the Gear aka Settings icon at the top right corner. A window will open up. Go to the 'Presentation' tab. 
Step 8: Uncheck the "Show link to submit another response" box and under the 'Confirmation message', paste the copied link of the file.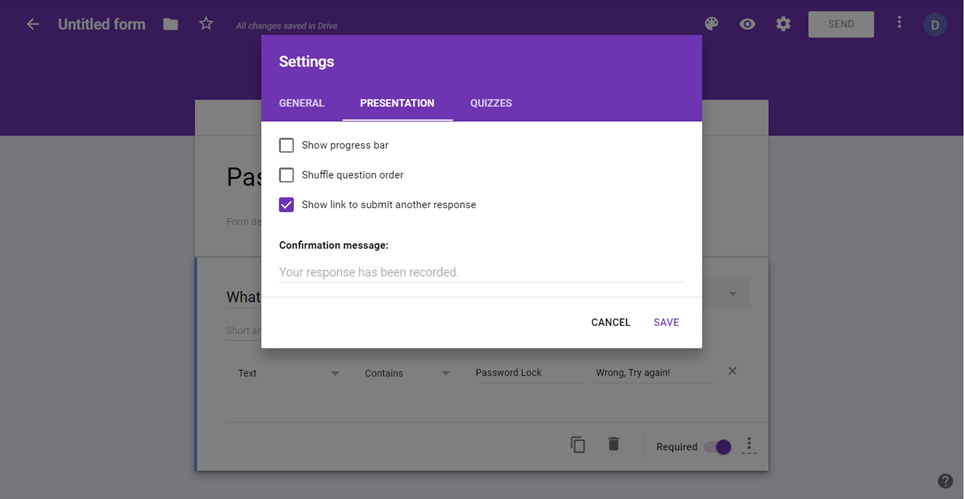 Step 9: Last, but most definitely not the least, click on the 'Save' button.
To preview the whole thing before sharing, click on the eye-shaped icon at the top right-hand side and test it out by entering both right and wrong passwords.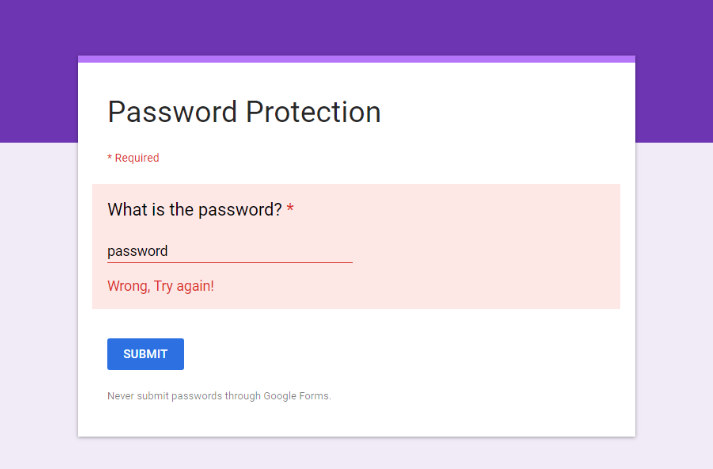 Further, to share this with other people, click on the 'Send' button on the top right corner. After that, a dialog box will pop up. Here you can choose to send out the form via email, or sharing the link in any way you want.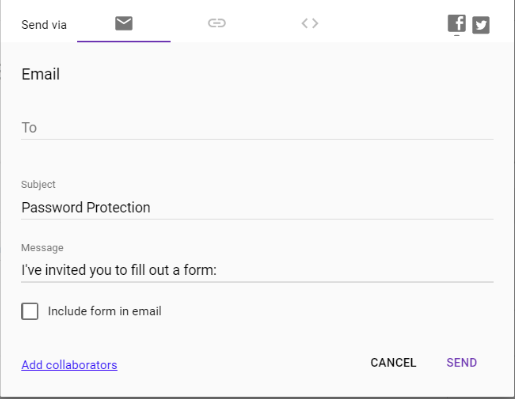 And this is it. These are the ways through which you can password protect your Google Drive files and documents.
But be cautious as there are no official ways to do so, and hence we suggest not to protect your very confidential data this way.
Diksha Lalwani is an aspiring content marketer and a self-declared bibliophile. An English honors graduate, she likes to keep up with the recent happenings around the world and form an opinion. Her interest in anything and everything tech made her follow the path into becoming a technical writer.
Subscribe to Our
Newsletter

and stay informed

Keep yourself updated with the latest technology and trends with TechPout.
Related Posts