FlashScan: Best Alternative Scanner App For CamScanner
Published Date :
Jun 30, 2020

CamScanner is a well-known Chinese app used by millions of users worldwide for scanning documents and images. The app is quite useful actually, but on the flip side, it was found engaging in malware activities, leaving the sensitive data and privacy of countless users at stake. 
So, if you need a replacement for CamScanner, we have mentioned one of the best CamScanner alternative apps in this article.
The application is called FlashScan, and it offers endless features for effective scanning of documents and PDFs that are actually far better than CamScanner.

If you are eager to know how FlashScan can make document scanning effortless, then read our elaborative review to understand the features and functions of this popular free CamScanner alternative. 
Reasons Why You Should Stop Using Chinese CamScanner
The government of India has banned as many as 59 Chinese mobile applications to ensure safety and counter the threats posed by these apps to the sovereignty and integrity of India. The list includes TikTok, CamScanner, UC Browser, Shareit, WeChat, Helo, Club Factory, YouCam makeup, and so on.
The important point to note here is that India is not the only country to take action against Chinese apps, Internet campaign 'Boycott Chinese products' (stop buying Chinese goods) is trending all across the world over the concerns of the low quality of products, users' privacy and data, and many others.
Countries like United States, France, and Japan are also urging their companies to rely less on Chinese apps, goods, and other related services. 
In addition to the ban on the Chinese apps, the mobile applications were allegedly found stealing of users' data and sharing sensitive information to servers located outside India.
So now, if you don't want to end up being a victim of phishing and spyware attacks, it is a good time to look for other popular alternatives to the Chinese CamScanner app.
To help you with, we have mentioned below one of the best free CamScanner Alternatives that you can rely on any day of the month for scanning documents, images, PDFs, and lots more. 
FlashScan: Best CamScanner Alternative for Android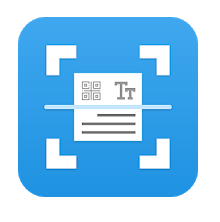 Developed by Innovana Techlabs Limited, FlashScan is one of the most popular CamScanner alternatives available for Android smartphone users. This app allows users to scan documents, convert files to PDF format, and share them with their clients and friends in the most accurate and user-friendly manner.
Being one of the fastest document scanners, FlashScan offers numerous features that not only ensure the security of your sensitive documents but also make your document scanning experience a bit less painful.
Now, before moving to the detailed description of the prime features, we would like to enlighten you about the beneficial attributes of using FlashScan. Let's have a quick look at it:
Beneficial Attributes of Using FlashScan
Here are some of the attractive perks of using this popular alternative app to CamScanner:
Extremely fast and easy to use PDF and document scanner

Scan every type of documents and images

Crop scanning area to get accurate results 

Mark documents as favorites to get quick access

Save images and documents in PDF format in a one-click

Save time by sorting documents with name and modify time tags

Effective tutorial videos to help you learn how to scan documents 

A wide array of filters and visual effects to give documents a professional look
Read More: Best Barcode Scanner Apps for Android & iPhone
Key Features of FlashScan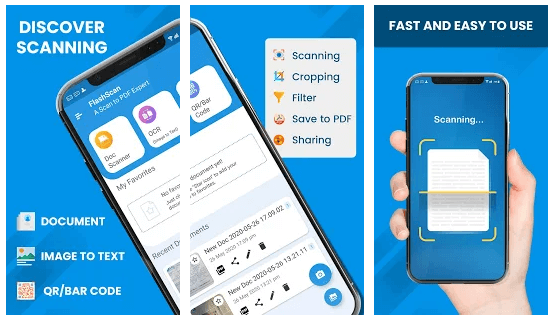 Now, let's take a deeper into the notable features, offered by this powerful scanner app:
1. Document Scanner: It lets you scan different kinds of documents, including certificates, identity and business cards, receipts, formal papers, etc.
2. Favorite Document: You can now store and find your important documents in a hassle-free manner by saving them as 'favorites.'
3. Crop Scanning Area: Using the cropping feature, you can select the area of the image you want to keep and discard the rest to produce more effective results.
4. Filters & Visual Effects: You can apply numerous filters and effects like Gray scale and Magic color to make your business documents look more professional. 
5. PDF Converter: It lets you convert your already saved Jpeg images to a PDF format in just a one-click.
6. Sort Documents: You can easily search your required documents by sorting them using the date modified and name tags.
7. Optical Character Recognition (OCR): It recognizes the text and characters from an image and allows you to copy them as a plain or editable text directly to the clipboard.
8. Copy/Move/Rename/Delete: You can copy, move, delete, and rename one or more documents and files at a time to organize them conveniently.
9. QR/Bar Code Scanner: It also lets you scan and copy the results of QR and Barcode contents directly to your clipboard.
10. Share Documents: You can save and share your scanned documents with your business clients, friends, and family in just a matter of seconds.
Conclusion: FlashScan Vs. CamScanner – Which Should You Use?
The shortest answer to this question is – FlashScan. The Chinese apps like CamScanner and TikTok are allegedly disrespecting user privacy and sharing the sensitive and confidential user data to the Chinese servers.
To ensure your personal information remains private, it is suggested to stop laying your trust in such suspicious Chinese mobile applications, and instead use suitable alternatives to these apps created by genuine developers.    
So, if you're looking for a popular CamScanner alternative app, FlashScan is your best bet, especially if you don't want to lose your sensitive information and private documents to the spying entities. 
The FlashScan app is available for free on Google Play Store. So, what are you waiting for? Download this non-Chinese scanner application now and enjoy a more safer and reliable document scanning experience. 
If you want to see more popular alternatives to other Chinese apps, please let us know in the comments section below. 
Monil is a professional writer whose forte is absorbing a lot of data and help large technical organizations convey their message clearly across multiple products. An engineer by qualification, his affinity for design enables him to write to inspire, energize, and influence various audiences to uncover their true potential. When not writing, Monil is likely to be found listening to music, traveling, or simply excavating into his favourite cuisines.
Subscribe to Our
Newsletter

and stay informed

Keep yourself updated with the latest technology and trends with TechPout.
Related Posts