How To Enable or Disable Android System Webview – Quick Steps

A precise & easy article on how to enable and disable Android System Webview disabled on your Android devices. Read an entire write-up for complete information!
Android is equipped with many hidden features or functionalities that further improve the smartphone experience. Android System Webview is one of them. It's a tool controlled and managed by Chrome and Android devices enabling you to open any web page on your standard web browser.
So, basically, Android System Webview is a default tool in all Android smartphones. This tool makes web content accessible on the Android operating system for pre-installed applications. This pre-installed element is available on all Android mobile phones permitting users to see any kind of web content. To be more specific, we take a dig into the Android System Webview concept and explain to you how to enable or disable it.
How to Enable Android System Webview on Android Devices?
When it comes to the performance of your Android device, then Android System Webview plays a significant role. Enabling the Android System Webview ensures that all the installed applications perform correctly as respected. However, this option is only available to the Android 6.0 or lower versions. Later on, many developments and advancements were made and Google Chrome was improved to be utilized to run web pages in applications as well.
But for those Android devices which function on this, will require the Android System Webview. Those devices can start malfunctioning without this feature or simply refuse to open the web links. Therefore, it is crucial for you to make the Android web viewer enable to use all the features in an accurate manner on Android versions lower 7.0. Below are steps on how to enable Android System Webview:
Step 1: Open the Play Store app on your device.
Step 2: Find and tap on the Android System Webview application.
Step 3: Next, click the Open option.
Step 4: Now, you see a button that is disabled, click on Enable to turn it on.
No matter how rapidly technology is growing, every Android device will always need Android System Webview for appropriate functioning and viewing of web content from applications. So, better to keep it enabled.
Also See: How to Change the IP Address on your Android Device
---
How to Disable Android System Webview on Android Devices?
Being a dedicated contribution to the Android operating system, Android System Webview can't be deleted or uninstalled from the OS family. Even though it can be disabled on your device if required. Also, it is advised to not disable the feature for Marshmallow or lower Android versions.
But, if you are using an Android device that has Android Nougat or any higher versions, then disabling Android System Webview is pretty fine. Since Google Chrome has carried up the task of effecting it for complete device. So, in order to make this process much easier and more effective for your smartphone, Chrome performs for all the web links opened upon it.
Coming back to the point, follow the steps below to disable Android System Webview on your device:
Step 1: Launch the Play Store application.
Step 2: Type Android System Webview in the search space and click on it.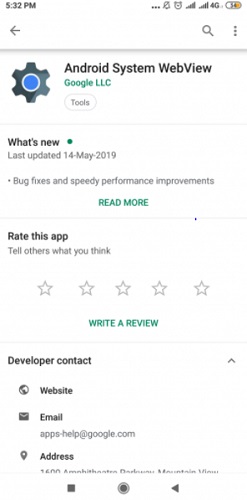 Step 3: Here you can see the option to disable it. Hit the option and now the Android System Webview disabled.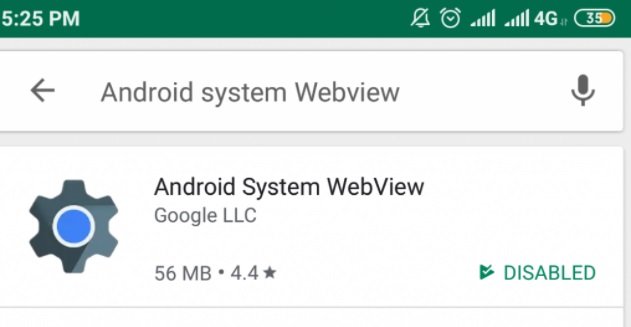 By disabling the Android System Webview application, you can save the battery life of your PC and the background running applications can run faster than earlier.
Also See: How to Install and Run Android Apps on Windows 11 – Step by Step Guide
---
Bottom Line on How to Enable or Disable Android System Webview
Every Android smartphone has an in-built Android System Webview feature. This feature ensures the smooth functioning of the overall Android device. Android System Webview is responsible for the performance of all the applications that contain web page links to open within.
In this detailed guide, we have above discussed what the tool is – Android System Webview. In addition to this, we have also mentioned how to enable or disable Android System Webview on your Android devices. We hope the above-shared articles will prove helpful to you. Do tell us in the comments section below if you need further assistance.
For more tech-related stuff, do subscribe to our Newsletter, also, follow us on Facebook, Twitter, Instagram, and Pinterest.
Harshita Sharma is a technical writer with quite a distinct understanding of the tech realm. She is a tech enthusiast who believes that tech knowledge should reach one and all and tries to convert the sketchy knowledge into the simplest possible form for making people understand the tech world better. When not playing with words, she loves to travel and explore new places. And, is a coffee & cricket connoisseur.
Subscribe to Our
Newsletter

and stay informed

Keep yourself updated with the latest technology and trends with TechPout.
Related Posts