8 Best Apps to Change Hair Color in 2022

Here is a detailed list of the 8 best apps to change hair color in 2022. Read an entire article for complete information.
Ginger, blond, or brunette might be the most popular hair colors presently, but they are not the only ones. There are plenty of hair colors and styles out there. Hairstyles or hair colors are becoming more common as the recent days go by, and it is hard to believe that you are not curious to know more about this latest trend. Having a totally different hair color could be good, especially if you want to become an Instagram influencer. But, have you ever wondered? How would you look with your new hair color? If yes, then trying out all the top-notch apps to change hair color might be a wise move!
Top 8 Apps to Change Hair Color in 2022
Do you want to have striking hair color? But, you are not sure if that particular color shade will suit you or not? Don't worry, these best hair color-changing apps will help you decide which hair color looks good on you. Now, without further ado, let's get started:
1. ChouChou Virtual Hair Try-On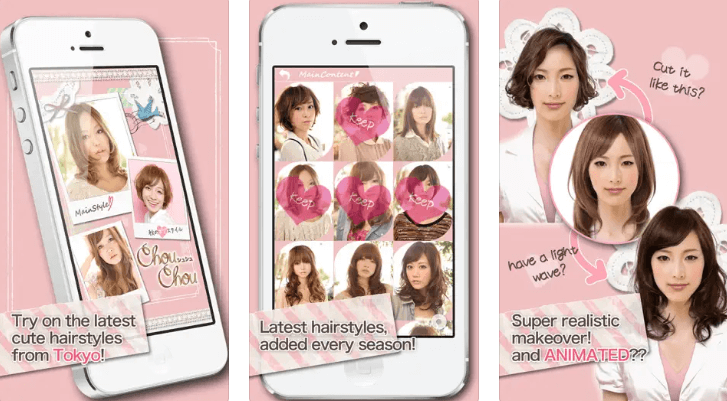 ChouChou is one of the best apps that you can consider to change your hair color, quickly and easily. Not just an app for hair color, it also lets you test out numerous different haircuts & styles. Especially, if you are a great admirer of Japanese culture, ChouChou is the perfect fit for you. The was developed by a Tokyo-based beauty salon franchise to help users digitally test the hairstyles or haircuts and dyes the hair colors they've ever wanted to.
This clearly indicates that beyond a testing hair color application, it's always up-to-date about the latest hair color trends in Japan or elsewhere in other countries. The complete process is done through a 3D representation of your face. Super realistic 3D animation and high-quality hairstyles are the best features of ChouChou. Some additional features include quick switching between hairstyles, adjustable hair volume, sharing on social media like Instagram, Twitter, or LINE, and photo customization options.
Also Read: Best 3D Texture Painting Software
---
2. Hairstyle Makeover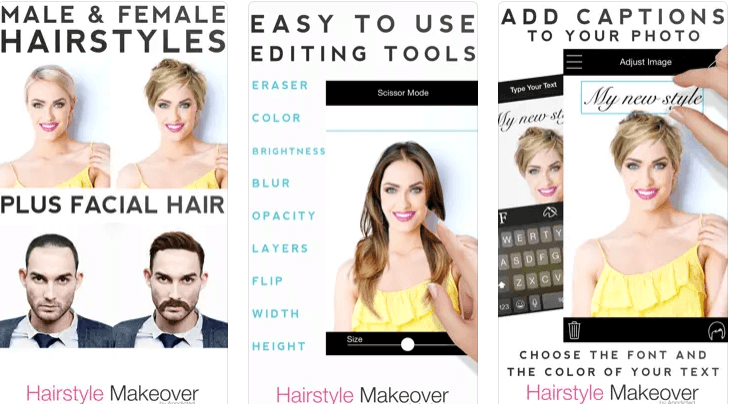 Another app to change hair color is Hairstyle Makeover. It is one of the most user-friendly hairstyle applications available for iOS devices. All you need to do is, simply tap and drop the hairstyle you want. And, then match the hairstyle to your picture. You can also adjust the hairstyle according to your photo using its different adjustable options like size, placement, and rotation.
Unlike others, the app brings several different hair colors and styles that goes for anyone, of any gender; be it male or female. Besides all that, it also gives mustache and beard options so that you can customize and test other colors. Moreover, allows you to save and share your tests with Twitter, Facebook, Email, and iMessage integration. You can download this exclusive application from the App Store.
---
3. YouCam Makeup: Selfie Editor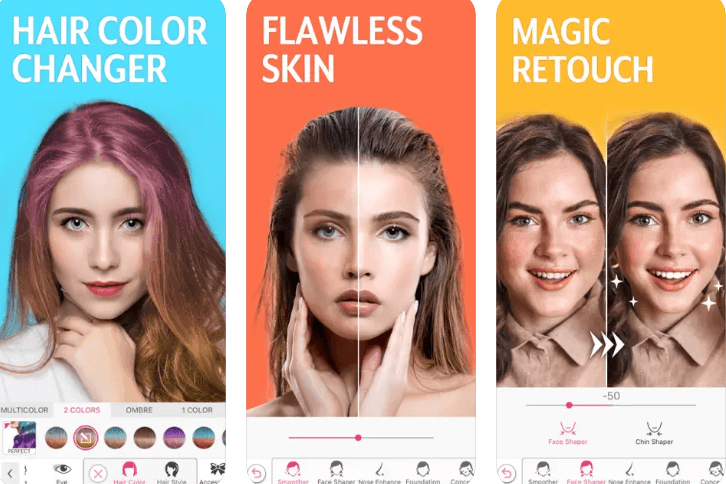 YouCam Makeup is the world's leading AR (Augmented Reality) camera app & selfie editor. With this app, you can try on thousands of virtual makeovers from top brands, plus, instantly apply makeup beauty filters and also get real-time makeup tutorials through live AR streaming. YouCam Makeup also provides several advanced retouch tools to quickly make skin smoother, well-tuned from the face, whiten teeth, nose to lip shape, enlarge eyes, and many more.
It comes with the most realistic hair dye tool that helps you easily find the perfect hair color for you. In addition to hair coloring, you can also get hundreds of different hair cuts or styles from long & curly to straight & short to bob haircuts & trendy bangs. The application also provides personalized suggestions for hair care, skin care tips & products.
---
4. Hair Color Booth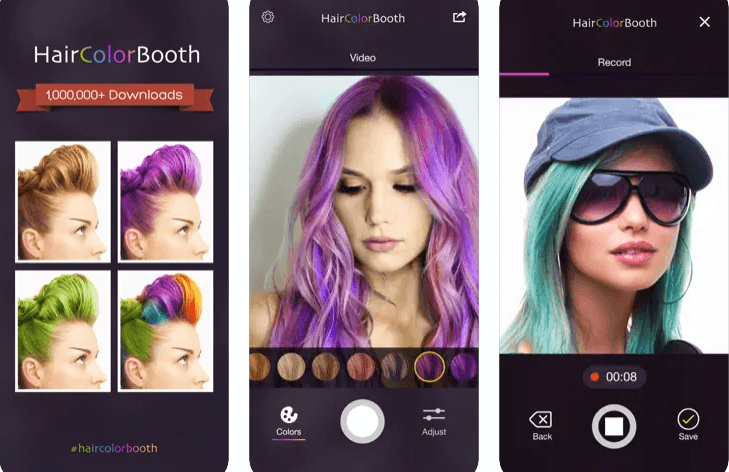 AI-powered hair colorizer, Hair Color Booth is one of the most popular entertainment applications in the UK, Denmark, Australia, and Sweden. The application effortlessly dyes your hair digitally into that color or shade you have always wished for; from brunette to blonde or punk hairstyles. You can choose from a wide range of colors that can be later adjusted to design almost every combination imaginable.
Hair Color Booth is a wonderful app to change hair colors that brings a lot of tools when trying out new shades or colors. Moreover, you can share all your loving hairstyles & color looks directly with your friends on social media platforms like Facebook, Instagram, WhatsApp, or more. It is a super realistic hair coloring app that comes with full-color control capabilities including translucency and smoothing. Sadly, Android users can't use this excellent application as it is only available for iOS devices.
Also Read: Best Free Drawing Software/Programs
---
5. Style My Hair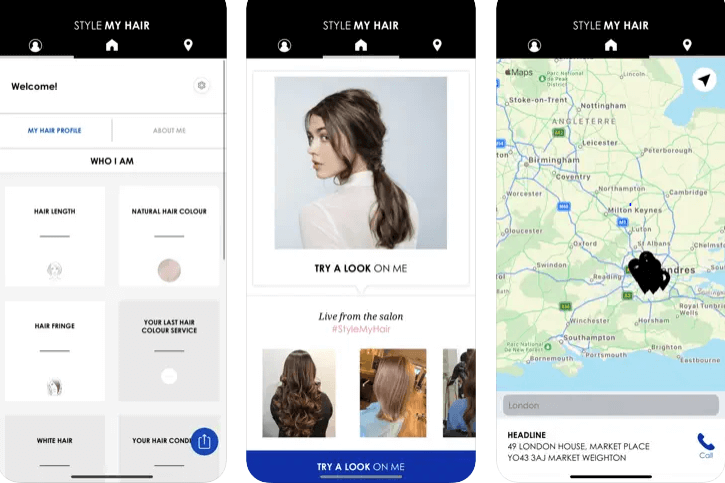 L'Oreal, of course, needs no introduction. Style My Hair is L'Oreal Professionnel's 3D hair color makeover application that helps you transform your dreamy hair color shade into a reality. Frome brown shades and blonde to coppers and reds, to colorful shades of purples and pinks, Style My Hair will give you the full confidence you need to switch up your hair color. Not only that, but this hair color-changing application will also let you try sombre and ombre looks.
It's not just a makeover application, with this tool, you'll receive a daily dose of hairspiration with the tips and tricks of the latest hair color and styling trends. And, once you have found a perfect hair color and style for you, Style My Hair also makes it easier to find L'Oreal Professionnel Salon located near you. You can even share your hair color look with all of your friends, in no time. The best thing about this application, it is available for both Android and iOS users.
---
6. Hair Color Dye – Hairstyles Wig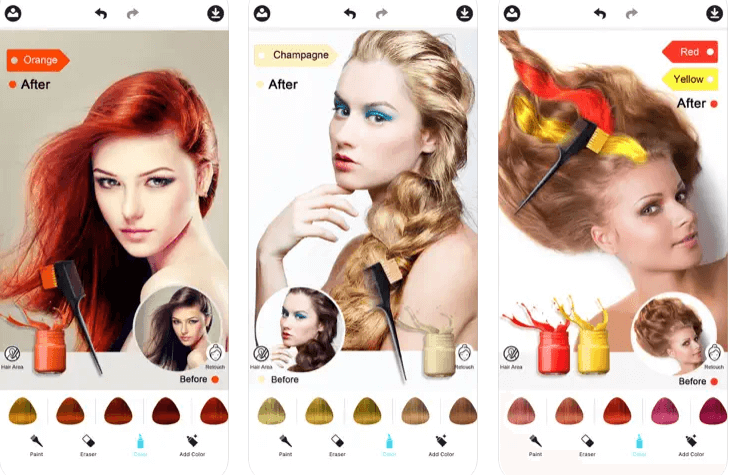 Now, this is another specific app for changing hairstyles or colors. In order to use Hair Color Dye, you only need to upload a photo of yourself, choose the area where your hair is, and select the color you wish to test out.
Hair Color Dye is a very easy-to-use app for hair color and has plenty of features from picture editors, enabling the users to erase or undo any errors made when trying. Furthermore, it is worth noting that you can also share your test results on social media or on email. Do keep in mind that sharing your experiments on Instagram could be a great idea.
---
7. InStyle Hairstyle Try-On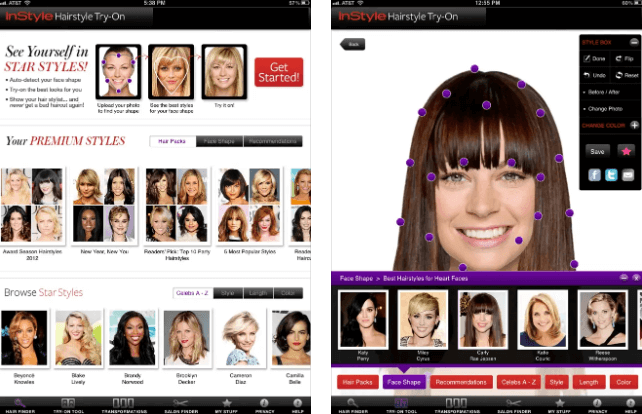 InStyle Hairstyle Try-On is another robust application to test different hair colors and styles. Your perfect hairstyle or haircut is at your fingertips. InStyle Hairstyle Try-On, is a wonderful hairstyling application that enables users to select from more than 500 different hairstyles to figure out what is the best hair cut, style, or hair color. Its auto-detect technology helps you determine your face shape accurately. And, simply try on and modify the hottest celebrity hairstyles on your own photo.
Once done, then share the amazing, realistic test results, and get useful tips on how to get the look. This hair color change app has all the tools you need to try on your favorite hairstyles and colors, plus, makes it very easy to edit your look. However, the app can be run only on iOS devices.
---
8. Hair Color Changer – Styles Salon & Recolor Booth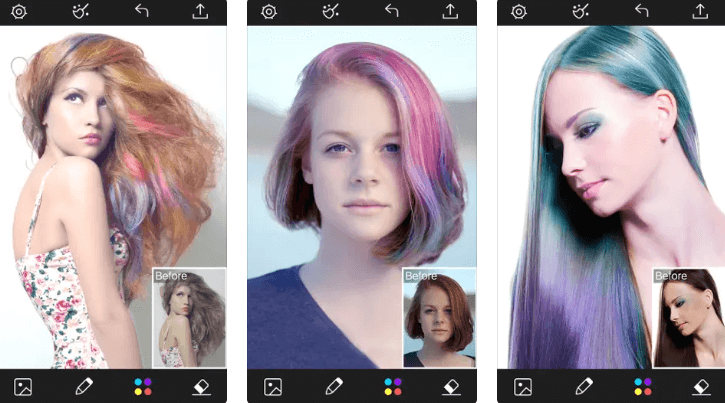 Last but not least, get trendy hairstyles and color ideas with Hair Color Changer. It is a pretty straightforward app to change hair color. The application comes with a massive library of hair colors, also enabling you to make more colorful hair stripes, perfect for those who wish to color locks in distinct or multiple colors.
Hair Color Changer makes it easier for you to edit your pictures by providing basic editing tools to redo or undo actions, modify picture blurring and alter the size of the brush you utilize to make the improvements in more particular points of your hair. This smart hair color-changing app also provides regular personalized suggestions or better ideas according to your hair size or volume.
Also Read: Graphic Design Software for Designers
---
Which is the Best App to Change Hair Color in 2022?
That's all! The aforementioned were some of the best hair color-changing apps in 2022 that you can try. All the above-listed applications are reliable, secure, and easy to use. But, if you'll ask us, "Which is the most deserving one"? Then, in our opinion, you should certainly give YouCam Makeup a shot. This is the most brilliant and smartly designed app to try on different hair colors and styles.
We hope you find this comprehensive guide very much helpful. Please do tell us in the comments below, if you have any queries or better suggestions.
In addition to this, if you are interested in reading more useful articles related to technology, then do subscribe to our Newsletter. Apart from this, you can also get the latest tech updates on Facebook, Instagram, Pinterest & Twitter.
Harshita Sharma is a technical writer with quite a distinct understanding of the tech realm. She is a tech enthusiast who believes that tech knowledge should reach one and all and tries to convert the sketchy knowledge into the simplest possible form for making people understand the tech world better. When not playing with words, she loves to travel and explore new places. And, is a coffee & cricket connoisseur.
Subscribe to Our
Newsletter

and stay informed

Keep yourself updated with the latest technology and trends with TechPout.
Related Posts