ASRock Motherboard Drivers Download and Update [Easily]

You may read this article to effortlessly download the updated ASRock drivers for Windows 10/11 and install them.
Are you looking for ways to download ASRock motherboard drivers and update them? If yes, you may focus completely on this article. This write-up elaborates on the best possible methods to get the required drivers downloaded, installed, and updated.
However, before moving on to those methods, you should note that there are no particular drivers for your motherboard itself. The motherboard encompasses components like video cards attached to it. And downloading, installing, and updating the motherboard driver means getting the needed drivers for these components.
Now that you are aware of what it means to download, install, and update the ASRock drivers for Windows 10/11, let us proceed to the best ways of doing it.
How to Download, Install and Update ASRock Motherboard Drivers
You may follow the below ways to download the updated ASRock drivers for Windows 11/10 and install them.
Method 1: Download the ASRock motherboard driver's update from the official website
The official website of ASRock offers drivers for all the motherboards from the company. You may get the ASRock motherboard drivers from there using the below steps.
Firstly, travel to the official ASRock website.
Select Support from the top bar.
Now, type and search for your ASRock motherboard model. Ours is Z590 OC Formula.
Click on the Download tab appearing in the results section.
Choose your Operating System and click on the required driver to download its executable file.
Click twice on the downloaded Zip file to unzip and run it.
Follow the directions appearing on your screen to download the ASRock drivers update and install it on Windows 10/11.
Also Read: Gigabyte Motherboard Drivers for Windows
---
Method 2: Update your Windows operating system to download ASRock drivers
Updating Windows often downloads and installs needed drivers, including those for your ASRock motherboard to fix related problems. Hence, you may update the operating system to get the required ASRock motherboard drivers for Windows 11/10. Below is the step-by-step guide to doing it.
First of all, apply the keyboard command Windows+I to get the panel of Settings on your screen.
Select and open the settings for your computer's Update & Security.
Choose the Windows Update section from the left panel and Check for updates.
Download the latest update and install the same.
Once you are done with the update, restart your device to complete the process.
Also Read: AMD x570 Chipset Drivers Download and Update for Windows
---
Method 3: Get the ASRock motherboard drivers for Windows 10/11 via Device Manager
Device Manager is a Windows tool to help you handle driver-related functions, like downloading and installing driver updates. The following are the steps to use the Device Manager to download the ASRock driver's update and install it.
Right-click the Start icon on your taskbar and choose Device Manager from the options available on your screen.
Now, click on the category of drivers you wish to install for your ASRock motherboard. For instance, we want to download and install the audio drivers.
Right-click the ASRock motherboard device for which you need the drivers and choose Update driver from the list of options you have on the screen.
Search automatically for updated driver software. If you are on Windows 11, you should Search automatically for drivers.
Install the driver after an update is detected.
Lastly, complete the process by restarting your computer.
Also Read: How to Update Drivers on Windows 10,8,7
---
Method 4: Download the ASRock motherboard driver's update and install it automatically (Recommended)
Until now, we have gone through methods to manually download the ASRock drivers and update them for Windows 10/11. As it may be evident to you, these manual ways are tough to follow and a lot time-consuming.
Therefore, we favor and recommend updating drivers using Bit Driver Updater. The Bit Driver Updater is a renowned software to update drivers with a plethora of useful features.
For instance, with Bit Driver Updater, you can scan for outdated drivers on your device according to a set schedule, update drivers automatically with one click, accelerate the speed of downloading drivers, and perform a lot of other actions.
Below we share Bit Driver Updater's download and installation link for you to experience the software.

Within a few seconds of the software's download and installation, a list showing all the outdated drivers on your computer appears. You may Update All these problematic drivers to their compatible and stable versions with just a click.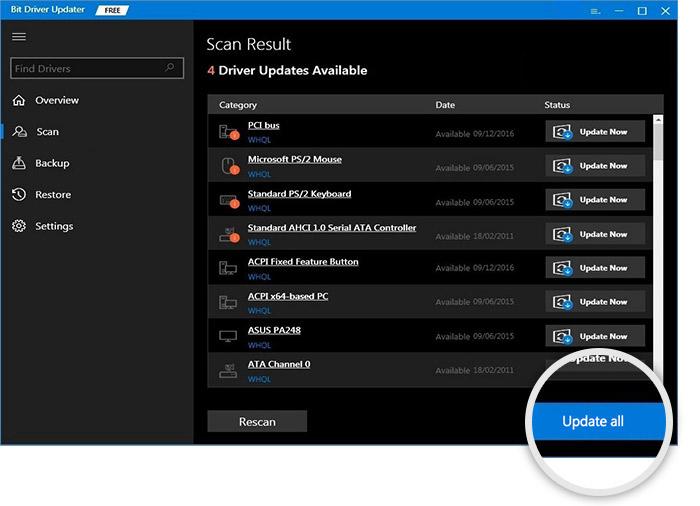 If you wish to update ASRock motherboard drivers only for a particular component on the motherboard, you may do so with the Update Now tool.
However, experts consider updating all drivers a better choice to ensure the best PC performance.
Also Read: Best Free Driver Updater for Windows 11, 10, 8, 7
---
ASRock Motherboard Drivers Downloaded, Installed, and Updated
Through this article, we introduced you to various approaches to downloading the ASRock driver's update for Windows 10/11 and installing it.
You may try all the methods stated above or automatically download and install updated drivers via Bit Driver Updater to save valuable time.
In case you have any unresolved doubts about this article, you may ask your questions through the comments section.
Niharika is a passionate soul who finds immense satisfaction in putting all her thoughts in writing. Being a technology enthusiast, she loves learning new things about tech and making everyone technologically literate through her articles. When not composing tech articles, you can find her bringing characters to life in her fictional stories, reading something intriguing, or spending time with her near and dear ones.
Subscribe to Our
Newsletter

and stay informed

Keep yourself updated with the latest technology and trends with TechPout.
Related Posts