24 Best PC Optimizer Software For Windows 10, 11 In 2023

In this write-up, we have genuinely reviewed the 24 best PC cleaning and optimization tools for Windows 10, 11, & older editions, including their key features, advantages, disadvantages, and verdict.
If your laptops and computers aren't catching up to speed like they normally used to, or they taking a lot of time to respond, then you're in desperate need of the best PC optimizer software. Just like any other machine, computers also tend to become slower over time.
It majorly happens when the hard-drives take up high storage of unwanted data (i.e., cache, cookies, temp files, program leftovers, etc.) present in your Windows PC.
And this is where Windows Optimizer software for PC comes to the rescue, by removing various kinds of junk from the hard drive and making the computer efficient and faster than ever before.
But when there are tons of PC optimization tools in the market, one needs to do a lot of research before opting for one. And hence we bring you a well-researched list of the best PC optimization software to improve your computer performance and make it run like a brand new machine.
Editor's Choice – Win Riser, a Powerful PC Optimizer & Cleaner Tool
Win Riser is the ultimate Windows optimizer that you will ever try. This is one of the few tools that come with various purposeful functionalities integrated into a single standalone tool, that too without the annoying option to download and/or purchase add-ons. The tool allows you to update all kinds of outdated drivers, find and delete hidden malware, fix all faulty registry entries, and get rid of unnecessary junk. All these functionalities pair together to improve the performance of the system and take it to the next level.

Best Free and Paid PC Optimizer Software For Windows 10, 11 In 2023
Here we present our top choices for the best free Windows optimizers to enhance your PC performance and free up disk space.
1. Win Riser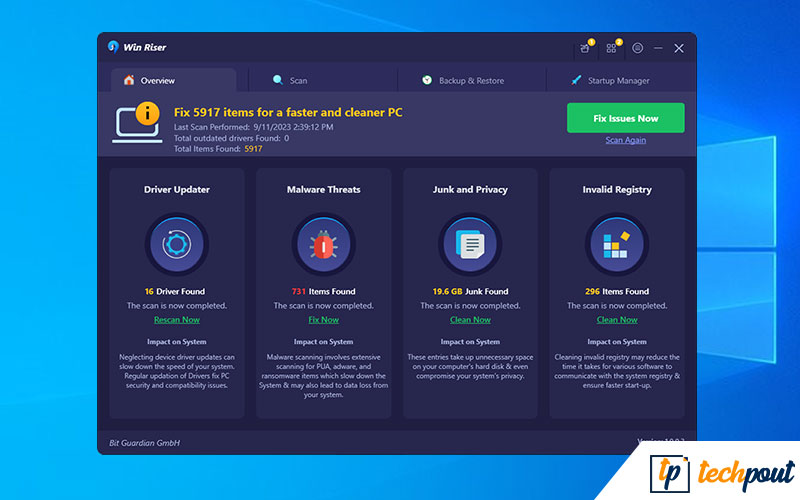 "Best Windows 10, 11 PC optimization tool to clean PC junk."
Win Riser is one of the best optimizers and boosters for Windows 11, 10 PCs. The powerful features and advanced functionalities of the program are the prime factors of its popularity. Win Riser lets you get rid of junk, resolve registry files, remove temporary files, and perform other tasks in order to improve the overall performance of the device. Using this tool, you can easily delete all kinds of malware and malicious files, and enhance the performance of your PC. Not only that but using Win Riser, you can get the latest and compatible driver updates for your computer.
Key Features of Win Riser:
Deep scanning gives you the correct information regarding your system status.
It comes with an in-built junk removal that thoroughly scans your system for temporary logs and junk files.
The tool looks for all types of faulty and invalid registries and lets you delete the performance-affecting entries.
Provides compatible and latest drivers for your system.
Win Riser provides you with an integrated feature to search for malicious and malware files.
Pros
Enhances the overall system performance
Real-time status through enabled notifications
Autolaunch for balanced performance
Update drivers automatically
Offers restore points for last driver versions
In-depth scanning within hidden folders
24*7 customer support
Simple and highly attractive UI
Cons
No RAM clearance
Multilingual language support absent
Editor's opinion: WinRiser
The Winriser tool is a must when you are looking for a budget-friendly alternative with advanced capabilities. Unlike other tools, it has an add-on facility for malware removal and driver updates. Moreover, as soon as you install the tool it will automatically launch and begin scanning. Once the scanning completes, simply resolve the issues with just one click.

---
2. Outbyte PC Repair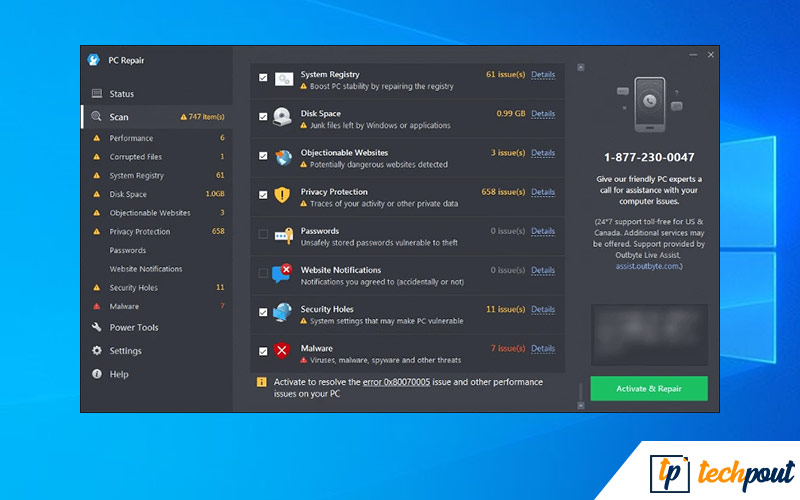 "Indeed the best PC optimization tool for Windows 10/11 in 2023 with amazing features."
The first name on this list of the best free Windows optimizers is Outbyte PC Repair. Just like the name of the software, Outbyte PC Repair is an amazing solution that offers you the feature to repair the entire system and its files with a single click. The smart build of the software paired with its easy-to-use interface, makes it possible for all to make the best out of the tool and improve the performance of the system as well. As the tool is available for all Windows devices, you can improve the performance of any system using the Outbyte tool. To understand deeply about this PC optimization software for Windows, let's have a look at its features.
Key Features of Outbyte PC Repair
You can download and install the software on Windows 11/10/8/7.
The tool is free to download for all Windows users.
The tool offers both paid and trial versions for your ease.
Outbyte PC Repair analyzes the disk space and frees up GBs of data for you.
The tool can easily delete all the website cookies that collect your data unnecessarily.
The Outbyte tool can easily boost the performance of the system in real-time.
As the tool supports smart file removal, no one can retrieve the files deleted by the software.
Pros
Single click operations
Multiples the performance of the PC by 5x
Protects your privacy at all costs
Offers a free trial for you to check out the product.
Scans for vulnerabilities and fixes them
Maintains real-time privacy
Cons
May not work on older Windows versions
Trial period limited to two days
Editor's Opinion: Outbye PC Repair
If compared to other best system optimizers, the performance of Outbyte PC Repair is off the charts. The tool offers multiple features and filters for you. You can use these to enhance the performance and remove the junk files as you want. The interface of the software is fairly easy and even a beginner can make the most out of the tool.

---
3. IObit Advanced SystemCare
"Best Windows 10 PC optimization tool to clean junk and protect online privacy"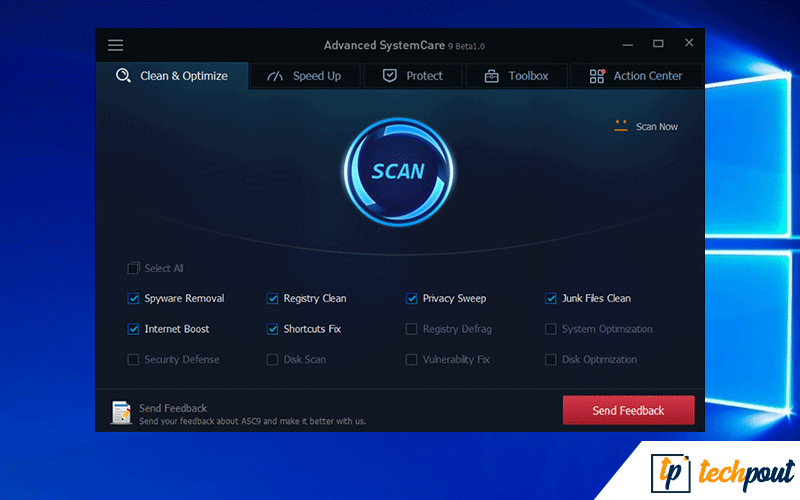 IObit Advanced System Care is one of the best Windows Optimizers available in the current industry. It is not cluttered or adorned with various things. It is not complicated at all and has an easy user interface, with a very straightforward means of accessing it. It makes the processing of the system fast and proficient in skills.
Key Features of IObit Advanced SystemCare:
It has advanced tools to clean the registry.
It keeps a check on the processing units and Disk conditions of the PC.
It maintains a startup item to give you a faster PC response.
It protects your personal data.
Pros
Increases your internet speed
Supports all Microsoft Windows editions
It offers lots of tempting and superior features for a very reasonable price
Real-time performance monitoring
Cons
Displays ads to promote other tools
Requires you to install additional programs to use its advanced features
Editor's Opinion: IObit Advanced SystemCare
If the above shortcomings do not seem bothersome, then IObit Advanced SystemCare is, without a doubt, among the best free system optimizers that you may use in 2023.

---
4. CleanMyPC
"A great tool to keep your PC fast and maintained"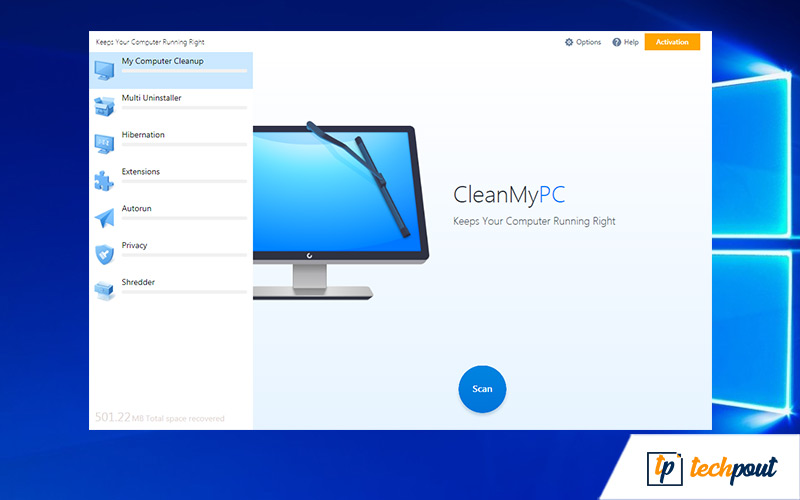 CleanMyPC is a very popular PC optimization software. It offers all the required features and tools that you can use to make your PC fast and manage the storage. Using the software you can easily remove registry files, junk files, uninstall software and remove their supporting files. The process of cleaning is very easy and you can erase all the files easily and securely.
The best part about this software is that you can get this software at a very cheap price. As compared to other competitors too it has a very reasonable price offering. The only downside of this best windows 10 optimizer is that it fails to protect the PC from malware and online threats.
Key Features of CleanMyPC:
The software lets you uninstall software and their residual files effortlessly
You can get rid of all the registry related issues with CleanMyPC
It can even manage Windows startup programs for fast start
It offers a detailed report of every action you perform
Pros
It takes no time in installing and using the software
You can easily get used to the interface as it is very simple
All the files are deleted securely with its deleting utility
The software has a dedicated software uninstaller for better performance
Cons
You can only clean 500 MB of junk with the free version
It fails to protect the PC from malware
Editor's Opinion: CleanMyPC
The reason why CleanMyPC ranks among the best PC cleaner and optimization software for Windows 10 and older operating systems is because of its effective system cleaning capabilities and simple-to-use interface. The software makes it convenient for both novices and advanced users to perform various tasks such as clearing useless clutter, junk files, uninstalling unwanted apps in bulk, repairing invalid or outdated registry items, permanently erasing files & much more. Download this Windows 10 PC optimization tool using the button below to try it out.

---
5. Piriform CCleaner
"A globally renowned Windows 10 optimization tool to clean system junk"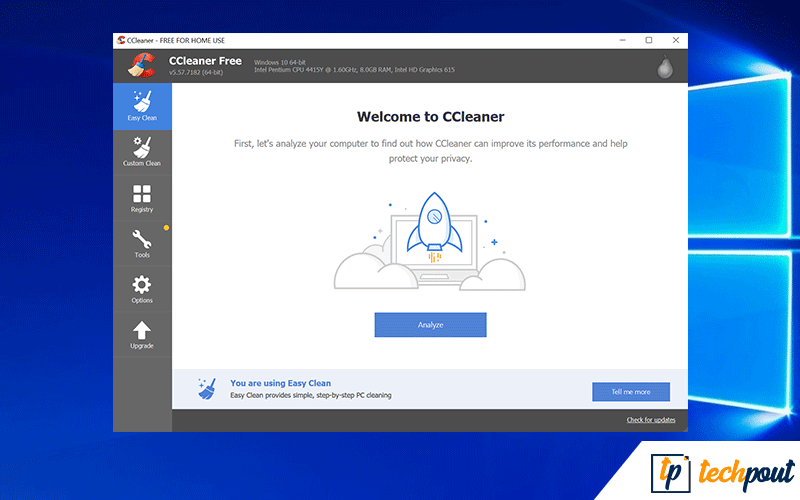 With over 2.5 billion downloads, CCleaner has surely made its mark in the world. It is one of the world's favorite PC optimizer tool that is very easy to use. It gives PCs 28% more free RAM and makes PCs boot 53% faster. It comes in two variants, one which is free (with lesser features) and the other which is not.
It gives cleaning in one click and optimizes your PC in no time. It cleans up unused files and makes your PC faster. From many popular internet browsers, it cleans traces of your internet history. It is perfect as a Windows 10 Optimizer tool.
Read More: Best Driver Updater Software For Windows 10/8.1/8/7
Key Features of CCleaner:
It gives standard privacy protection and standard cleaning.
It updates apps to reduce security risks.
It keeps your browsing history private.
It detects and removes internet trackers.
It keeps you from running out of space.
Pros
Fast and safe application with many strong cleaning capabilities
Gives you a detailed report of out-of-date programs
Built-in duplicate photo finder tools to delete similar items
Helps speed up slow computer
Allows to update outdated drivers with ease
Cons
Its interface is packed with lots of features that may confuse novice users
Free edition offers only a basic set of features
Editor's Opinion: Piriform CCleaner
After taking all the features, pros and cons into consideration, we can say that CCleaner is an excellent program to remove junk and improve the overall PC performance. However, you need to purchase the paid version if you want to use most of the advanced functionalities of this free Windows 10 PC optimizer pro for free, i.e., disk space analyzer.

---
6. Norton Utilities
"The best free PC optimizer for Windows 10 users"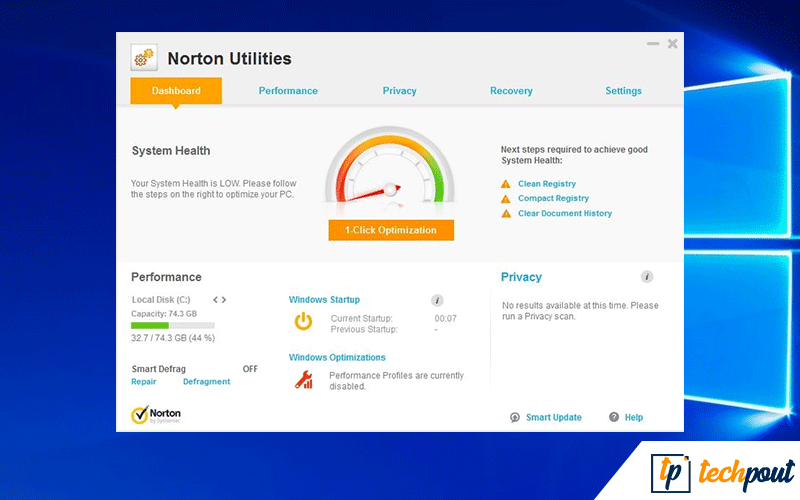 Norton is a popular brand, known for providing the best antivirus software. And that's not just it. The company also offers the best PC optimization software that's incomparable to any other tools available in the marketplace. Its Windows optimizer provides preset profiles that help boost the performance of your PC. Norton Utilities also gives you one-click optimization which is super easy and efficient.
Key Features of Norton Utilities:
It cleans and uproots common issues that can cause slowdowns or crashes.
It provides with freed space by discarding unused items.
It helps maintain digital privacy by erasing recently opened files and website browsing history.
One-click Optimization and easy to use.
It defrags the registry and fixes it to retrieve all the user memory.
Pros
It has a clear and impressive UI
Industry-acclaimed tool that makes optimizing PC effortless
Quickly scans and delete redundant files
Allows to recover accidentally deleted data
Cons
Not an ideal product for slowing down PCs
Editor's Opinion: Norton Utilities
In our view, this software is among the best Windows 10 optimizers for every user who wants to enjoy seamless browsing experience. However, if your sole purpose is to speed up your slow computer, then it is advised to go for the other utilities mentioned on this list.
---
7. Ashampoo WinOptimizer
"The best Windows 10 PC optimization software utility that delivers on its promises"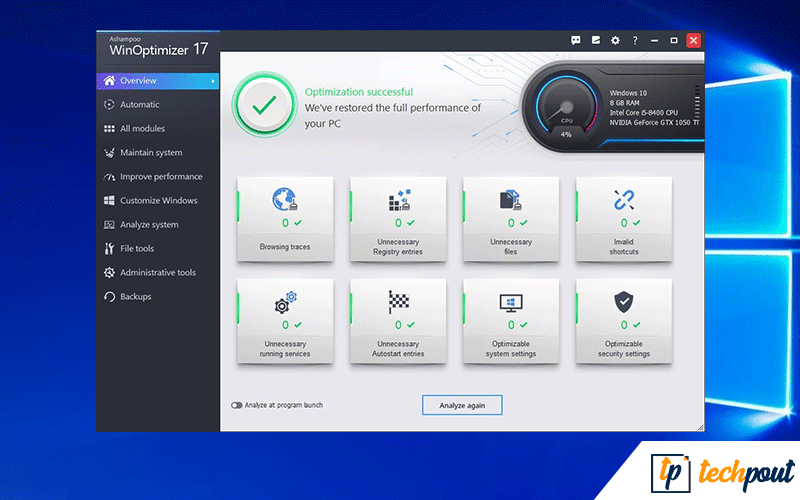 Ashampoo WinOptimizer, one amongst the best free system optimization tools and is highly abled. This free PC optimizer is specially developed for Windows and so, it makes the maintenance fast and easy for Windows users.  This software gives you a faster, cleaner and more reliable windows system.
Let's know more about this best free PC tune up and performance software through the features, pros & cons, and more.
Key Features of Ashampoo WinOptimizer:
Optimize Windows Registry with Registry Optimizer.
Remove internet traces with Internet Cleaner.
Speed up Windows startups with Startup Tuner.
Get detailed system information.
Pros
Fast and thorough system scans
Improves your computer's startup time
Fast and easy installation
Keeps your online privacy intact
Powerful system and junk cleaning capabilities
Cons
Not compatible with Windows XP and Vista editions
No classic install wizards
Editor's Opinion: Ashampoo WinOptimizer
It's packed with a bunch of useful features such as AntiSpy and junk cleaner that make it the best free optimization software for Windows PCs. However, if you're still using older Windows versions, Ashampoo WinOptimizer is not an ideal product for you.
---
8. The PC Decrapifier
"The best free PC speed up software for Windows"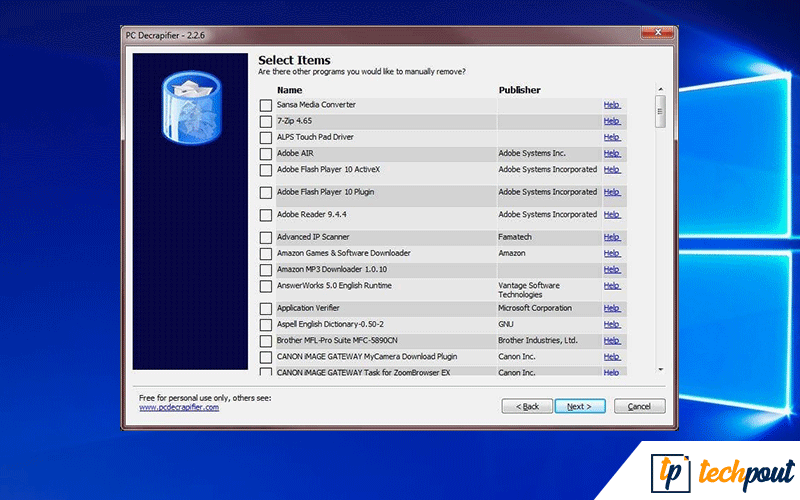 With a quirky name, this best free Windows optimizer tool does exactly what its name suggests.
It decrapifies your system. PC Decrapifier focuses on discarding programs that come preinstalled on freshly purchased computers. It works great to clean out the bloat on your new system. It provides an easy step-by-step process to help you remove the junk clogging up your computer. The thing that makes it the best PC optimization software is that it's a free tool so you don't have to spend a single penny.
Read Also: Best Free PC Cleaner and Tuneup Software for Windows
Key Features of The PC Decrapifier:
It takes up a very less amount of space.
It can uninstall programs in bulk and sometimes without a lot of user action.
This can be run off via USB as well.
Pros
Relatively lightweight application
There's no need to install it as it's a portable app
Removes Windows programs in bulk
Cons
Lack of important program filtering options
Limited set of features compared to other paid PC optimizer tools
Editor's Opinion: The PC Decrapifier
The interface of this program is a bit old-fashioned, but apart from that, it is a solid utility. Despite being a freeware, it encompasses quite a decent selection of features that make it one of the best PC performance optimizers for Windows users to download in 2023.
---
9. SlimCleaner Free
"One of the best free computer optimizers to clean system junk"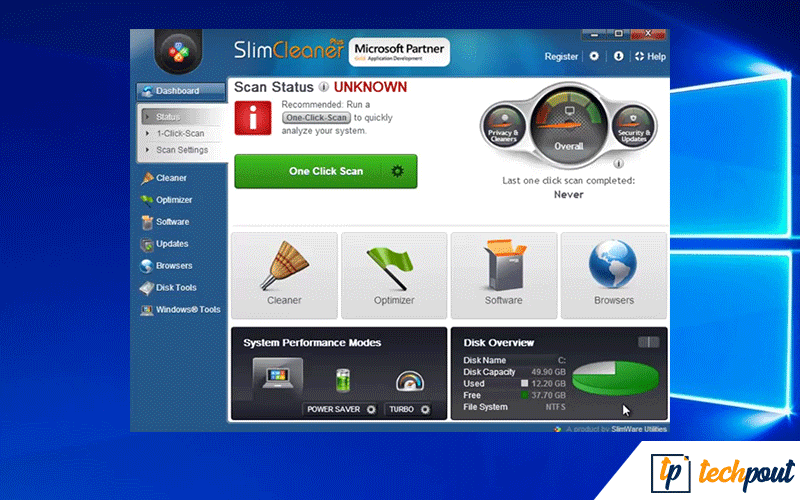 SlimCleaner is not just one of the best PC optimizer software available online, but also the world's first system utilities tool. It has a fast and powerful cleaning engine to do cleaning and also has a cloud-based optimization engine. It helps you to remove all the junk and broken files from your PC to get it to function in a gilt-edge condition. It is basically a free software, is community-driven and delivers up to date information, ratings, and recommendations from users. There is a paid version available for this Windows 10 computer optimizer which offers some additional features.
Key Features of SlimCleaner:
It can be used from a portable device.
It gives Unwanted Startup items alert and then optimizes them.
It has various modes like Performance boost mode and Power management mode.
It backs up the registry automatically.
Pros
One-click junk cleaning feature
Helps optimize startup items
Powerful PC tune-up and maintenance features
Takes automatic backup of system registries
Cons
Doesn't let you uninstall applications in bulk
Takes longer than usual to scan your system
Editor's Opinion: SlimCleaner Free
After evaluating all the major aspects related to this tool, we can say that this best free Windows 10 PC optimizer is worth giving a shot if faster scan and bulk deletion features are not among your topmost priorities.
---
10. Comodo PC Tuneup
"A robust utility to clean and optimize PC performance"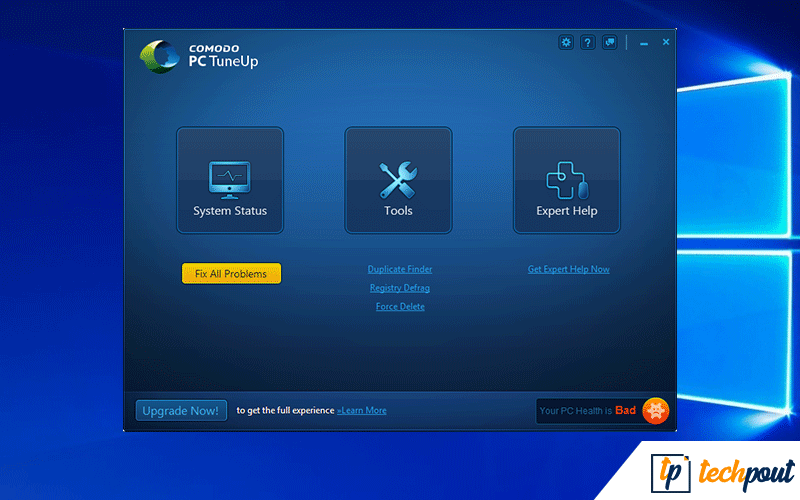 Comodo PC Tuneup, one amongst the best system optimizer tools, analyzes critical Windows events that occur during startup, shut down and while running applications and then further resolves them. It is a tune-up utility suite, a powerful PC optimization software that removes disk garbage and fixes registry problems.
Key Features of Comodo PC Tuneup:
It goes through the Windows settings and adds them to default to make it ready for efficient use.
It identifies and eradicates unnecessary startup items that make your software lag behind.
It has the added benefit of no installation limits.
Pros
Simple and easy to use interface
One-click cleanup for Windows
Deep and custom scans
Helps disable unnecessary startup programs
Cons
Need to shell out money to use it advanced features
Restore functionality is not up to the mark
Editor's Opinion: Comodo PC Tuneup
Comodo PC Tuneup is one of the best system optimizer for Windows 10 to clean junk files and optimize PC performance. However, in order to use its advanced security and optimizing features, you need to buy the premium version of the product.
---
11. Kromtech PCKeeper Live
"One of the best PC optimizer to sweep junk files"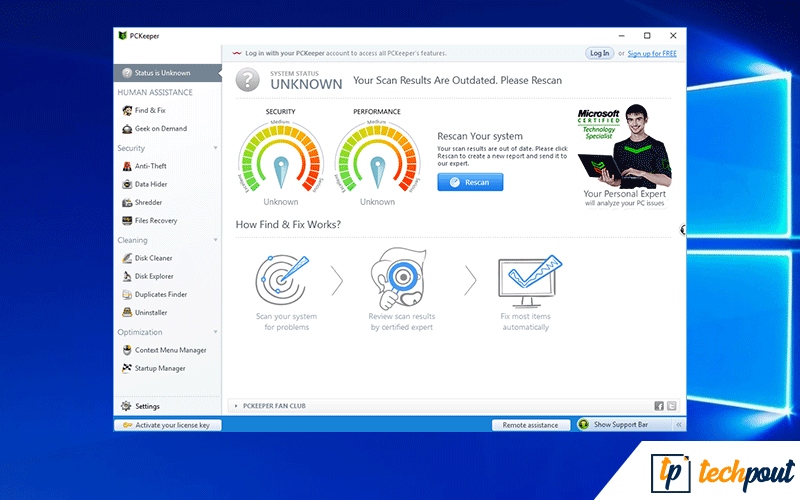 Kromtech PCKeeper Live is one of the best free PC optimization software which removes all the unnecessary files from the PC and makes your software run faster. PCKeeper is the one-stop software solution for keeping your PC in a wonderful state and safeguarding it from threats, both online and offline.
With this, in one button click all system problems, viruses, malware, and security vulnerabilities will be fixed. Hence, this tool is indeed the best free PC performance software.
Key Features of Kromtech PCKeeper Live:
It has customized fixes specialized by a technician for every customer.
It also provides an anti-theft feature.
It cleans and wipes out junk from the registry efficiently.
It has an easy and interactive interface.
Pros
Anti-theft security feature
Boasts a dedicated duplicates finder tool
Easy to use interface
Permanently deletes sensitive data using its file shredder
Cons
Software license limitations
Editor's Opinion: Kromtech PCKeeper Live
Despite minor teething troubles, PCKeeper is among the best tools for PC optimization and maintenance.
---
12. IOLO System Mechanic
"A power-packed PC optimizer for Windows 10"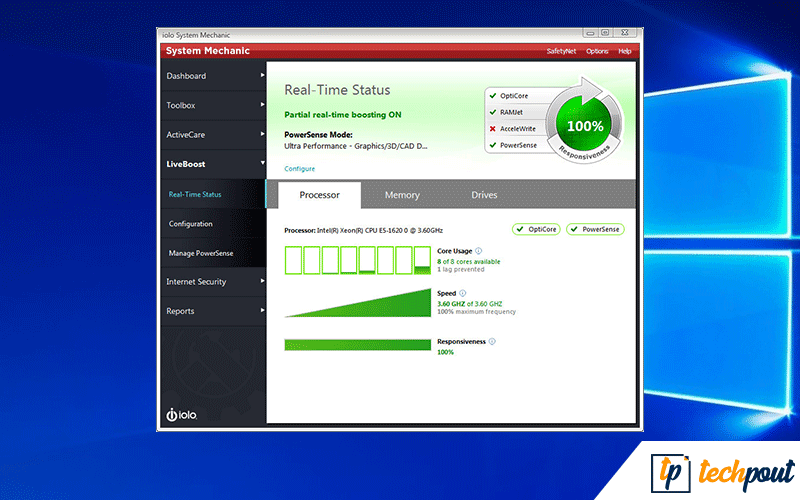 With a name that is unheard of, IOLO has a completely different trajectory in the market. It is very spread out in the world. IOLO can detect and remove up to 50 types of junk files, making it one of the best PC optimizer software. It provides an 89% faster startup and fixes over 30,000 PC problems. Its statistics reveal its high efficiency to boost the system speed and enhance system performance. It also unleashes internet speed and increases drive speed. However, there are certain attributes of this best free PC speed up and system performance software that you should know. Read all of these below.
Read More: Top 10 Best Video Editing Software for Windows
Key Features of IOLO System Mechanic:
It removes bloatware and Identifies unwanted startup programs that slow you down by launching and running without your knowledge.
It retrieves many lost and accidentally deleted files including photos, videos, and documents.
It guards and wipes out your most sensitive data with military-grade data wiping technology.
Pros
Removes bloatware from your PC
Gives you a smooth gaming and video streaming experience
Frees up disk space by clearing out hidden junk files
Offers a variety of Windows optimizing tools, including privacy
Helps you take a backup of Windows 10 registry
Cons
The interface looks a bit cluttered because of too many options
It doesn't provide detailed scanning reports
Need to upgrade to its pro version to unlock advanced features
Editor's Opinion: IOLO System Mechanic
The presence of numerous system maintenance tools makes it one of the best free PC speed up software that you may use. However, if well-organized interface and detailed scan reports are among your top priorities, then we would recommend you to consider using other optimization tools mentioned in this list.
---
13. AVG TuneUp
"An impressive PC performance optimizer for Windows"
AVG TuneUp, previously called AVG PC Tuneup ranks among the best PC optimization software in the world right now.
If you're looking to boost your system speed and performance, AVG TuneUp is what you need.
Key Features of AVG TuneUp:
Automatic Maintenance tool to speed up your Windows PC.
Browser Cleaner for a much faster and lighter browsing experience.
Software Uninstaller to help you get rid of unwanted programs.
Software Updater to help you keep all your programs up-to-date always.
Remove junk files and program leftovers to free up valuable disk space.
Pros
Fast and user-friendly interface
One-click Windows system repair tool
Real-time monitoring and battery saver
Lightning fast web surfing experience
Helps you update outdated programs with one click
Cons
Sometimes fails to detect hidden unwanted files
PC Cleaning and optimizing process takes a long time
Editor's Opinion: AVG TuneUp
AVG TuneUp comes loaded with myriads of cool maintenance and optimization tools, i.e., Software Updater. If the aforementioned cons don't bother you, then you should definitely try this remarkable PC tune-up utility.
---
14. Glary Utilities Pro 5
"One-stop solution to boost PC speed and clean up junk files"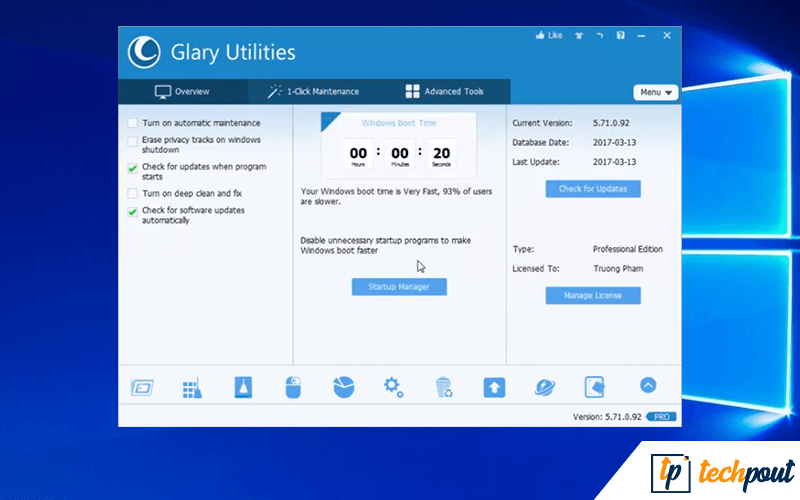 Glarysoft's Utilities Pro 5 with its beautifully designed interface and powerful PC optimization tools has gained huge popularity across a wide spectrum of Windows users.
If you're looking to take your PC performance and speed to the next level, then Glary Utilities Pro 5 could turn out to be the best PC optimizer software for your Windows machine.
Key features of Glary Utilities Pro 5:
Optimize your PC for better performance with more than 20 advanced system utilities.
Privacy Protection to keep your personal data safe from prying eyes.
Cleans registry and fixes frustrating freezing and crashing problems.
Easy-to-use automated tools with one-click functionality.
Pros
Simple and clutter-free interface
Automatically checks for available software updates
Makes your computer cleaner and more secure
Helps detect and remove malware infections
Cons
It hardly increases the speed of your computer
Editor's Opinion: Glary Utilities Pro 5
After taking all the features, benefits, and drawbacks into consideration, we can say that this free PC optimizer is worth a shot. The features such finding and removing malware threats and checking for latest software updates weigh more than its cons.
---
15. Razer Cortex
"Best Windows 10 optimization tool for all the gamers out there"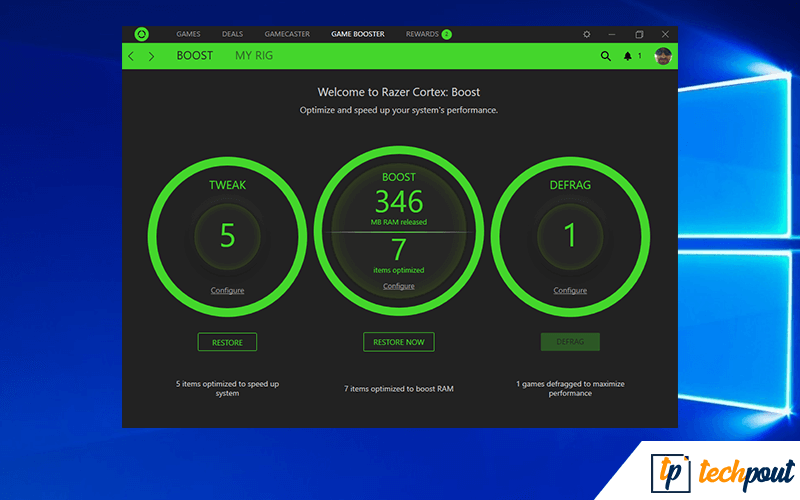 Here's another one of the best PC optimization software that you must try if you're an avid gamer. Razer Cortex brings all the powerful game booster and system optimizer tools in one place to unlock your system's best performance.
Razer Cortex seamlessly clears junk files such as cache, tracking cookies, temp files, and residual data to free up valuable space for better system performance. Let's know everything about the best system care software via features and more.
Key Features of Razer Cortex:
All-in-one, automatic utilities for game and system optimization.
Cleans unwanted junk files automatically and makes your device faster and cleaner.
Speeds up gaming and system performance.
Pros
Frees up RAM on your PC for playing games
Comes with an user-friendly interface
Releases hard disk space
It provides frames per second (fps) stats
Cons
.Net Framework is necessary to use Razer Game Booster
Editor's Opinion: Razer Cortex
If you're an avid gamer, Razer Cortex is one of the best free system optimization tools that you can find on the web to optimize your computer for gaming and boost FPS.
---
16. Microsoft Total PC Cleaner
"One of the best free performance booster programs to boost PC performance and unlock new potentials."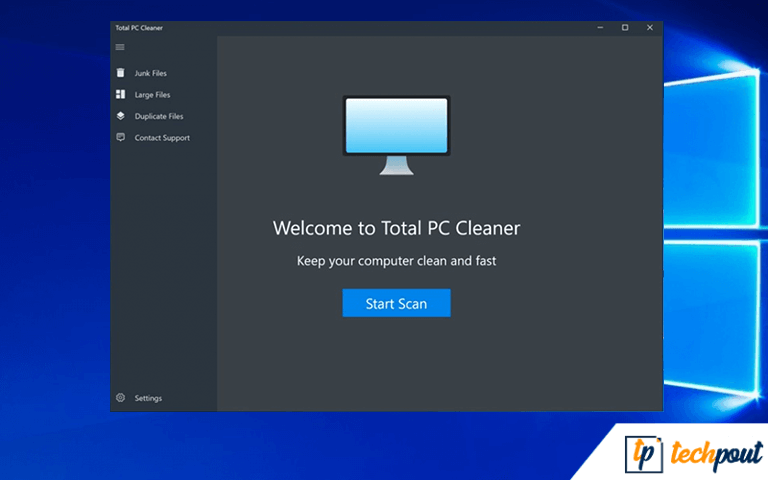 Keep your PC clean and clear with Microsoft Total PC Cleaner. Total PC Cleaner lets you clean your PC's cache and big files. It is a completely free cleaning tool. It optimizes almost an overall system. However, it only supports Windows 10 or above versions. With this cleaning software, you can also remove duplicate pictures. It optimizes the memory to release a large part of your disk space.
Key Features of Microsoft Total PC Cleaner:
Cleans junk or temporary files.
Speed-up the overall performance of the system.
Finds and deletes duplicate pictures too.
Removes large files and PC's cache.
Pros
Accurate and fast scanning
Simple user interface
Deletes duplicate pictures
Disk space clean up option
Helps clean up cache and large files
Cons
Not compatible with the older version of Windows like XP, and Vista
No option to detect virus or malware infections
Editor's Opinion: Microsoft Total PC Cleaner
In our view, this software is one of the best and reliable PC optimizer software that you can use absolutely at no cost. Total PC Cleaner can detect those files that aren't used for so long, and removes them too. If you are using Windows 10 or later versions, then you can opt for this software.
---
17. PC HelpSoft PC Cleaner
"The best free PC optimization software with an easy to use UI."
Protect your computer with PC HelpSoft PC Cleaner. It comes in both variants i.e, free or paid. The free version offers only limited access to its features. Contrarily, the paid version offers unlimited access to all the features. PC Helpsoft PC Cleaner is available in a paid version starting at $9.99 per month. Plus, highly capable of fixing the other Windows 10 related issues. With this tool, you do not need to install the duplicate finder and remover software. It will delete the duplicate pictures too.
Key Features of PC HelpSoft PC Cleaner:
Eradicates the unnecessary files that are causing issues and slowing down the performance level.
Automatically locates and fixes the Windows 10 issues.
Lets you clean your system from unwanted files in just a click.
Protects your personal data and online activity.
Pros
Enhance performance level
Improve storage space
User-friendly
Quick and easy installation
Cleans Junk files
Cons
Lack of customer support options
Free version is of no value
Editor's Opinion: PC HelpSoft PC Cleaner
After detecting every bit about this cleaner tool, we can say that this is the best PC Optimizer software for Windows 10. However, if you are accessing an older version of Windows like 7, Vista, or XP then it is not your piece of cake.
---
18. Wise Care 365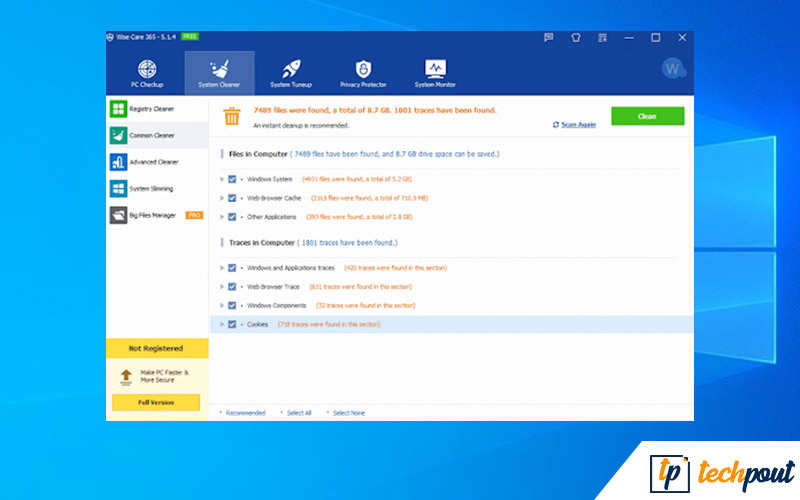 "Excellent PC optimization tool for Windows 10 to Stabilize, Secure and Speed up slow system"
Wise Care 365 is a renowned Windows PC cleaner and speed-up tool. The utility tool cleans up the disk and resolves all registry problems on your system. Also, it protects your privacy and makes your system more secure & faster than expected. Wise Care 365 is highly compatible with Windows 11, 10, 8, 7, Vista, and older versions like XP.
This PC optimizer has a neat, sleek, and flat design, additionally, it works effortlessly. What's more, Wise Care 365 is a free system optimizer program that you can use to optimize your PC's performance.
Keys Features of Wise Care 365:
Effectively manages the startup processes as well as Windows services.
It can easily retrieve deleted or lost data/files with just a few clicks of the mouse.
The utility tool comes with an in-built Privacy Protector that prevents unauthorized access and use of personal apps.
Hides sensitive and confidential information/data.
Pros
A portable version is available.
Provides user full access to clean identified errors.
Offers numerous tools to protect privacy.
Quickly frees up the hard disk.
Real-time protection.
Cons
The free version offers basic or limited features.
Not an ideal RAM booster.
Editor's Opinion: Wise Care 365
After knowing all the features, pros, and cons, we can state that Wise Care 365 is a good choice to clean system junk and enhance the overall PC performance. However, in order to get full control over its advanced functionalities, you need to rely on the paid version.
---
19. Restoro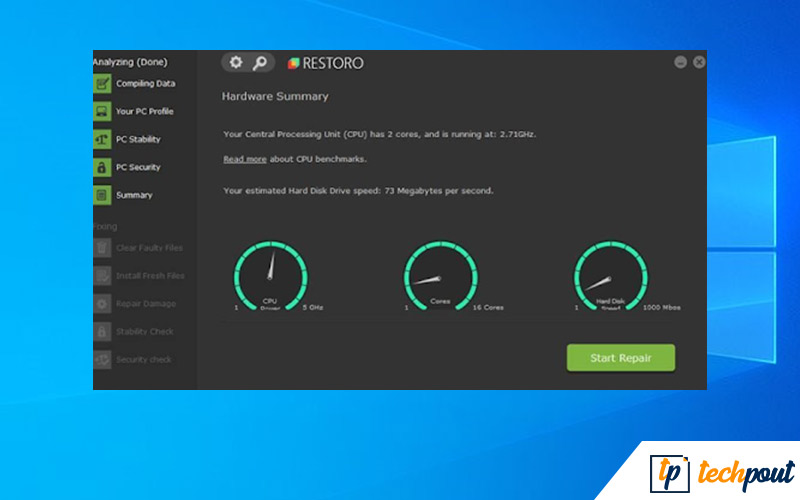 "A powerful PC optimizer to speed up PC's performance and maintain the overall functionality of the device"
Restoro is another PC optimization software that you can use to enhance the overall performance of your PC. The tool is available for Windows 11 as well as older versions like Windows 10, 8, 7, and Vista. Within just a few clicks, you can clean, optimize, protect, and make your PC more stable.
This PC optimization tool also helps in replacing missing or corrupted Windows files with the latest ones to ensure smooth functioning. The tool helps in performing in-depth cleaning and deletes cookies and damaged system files.
Key Features of Restoro:
Cleans invalid or corrupted registry entries.
Automatically resolves system files and other related components to improve overall efficiency and speed.
Easily & quickly replaces and retrieves DLL files.
Provides robust malware protection.
Pros
Easy-to-use PC optimizer.
Shows a full hardware profile.
Comprehensively cleans unnecessary privacy logs.
Cons
Customer support is not effective.
Editor's Opinion: Restoro
In sum, this PC optimizer is a great choice for both newbies and professionals to clean junk and improve PC performance. The tool provides a number of features and functionalities that you may not find in other alternatives.
---
20. TotalAV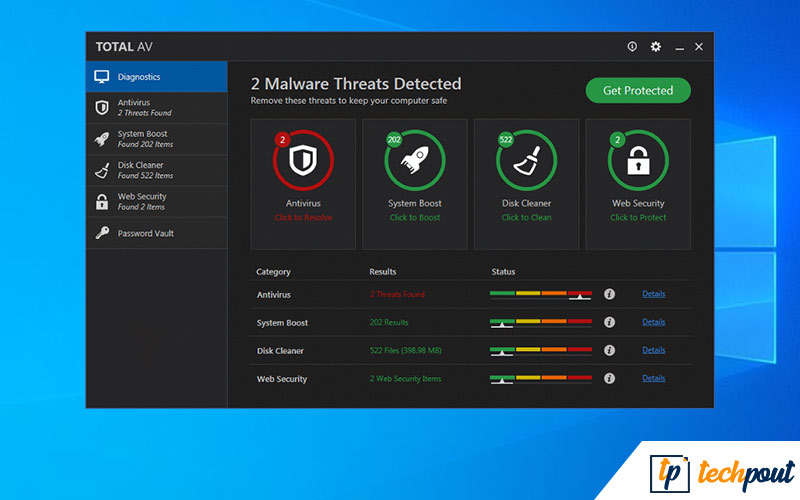 "A smart PC optimizer that improves the PC performance and retains its stability"
Last but not least, TotalAV is the best PC optimization software that you can try. Although it is antivirus software, it still allows some of the most amazing features to clean the files and improve the performance of the system. Apart from temporary file cleaning and system stabilization features, the tool also offers some extensive functionalities like RAM cleaning and more.
Key Features of TotalAV:
Being an antivirus tool, TotalAV cleans all malware and virus-infected files.
The tool offers real-time protection against all harmful and system-affecting files.
The cross-platformed software can be downloaded and used on Windows, Mac, and iOS devices.
You can download and use the Chrome Extension of TotalAV for browser security.
Pros
Quite simple
Gets regular updates
Cons
Lacks some basic optimization features.
Editor's Opinion: TotalAV
The tool is said to have been missing some basic optimization features that may be available in other tools on this list. Additionally, the performance of the software may also lack on the optimization front. All in all, it can be said that this software is more of an antivirus tool than one of the best PC optimizer software.
---
21. MyCleanPC
"Best PC optimization tool for Windows 10 to remove junk and protect privacy online"
MyCleanPC is another best PC optimization software that provides free adware and other problem detection for issues that cause sluggish performance, crashes, and instability in your system. Certain files are removed partly by the free scan, and you may buy more services if necessary. It also has automated and scheduled scanning, as well as the ability to identify cached data that create problems with fresh material.
Key Features of MyCleanPC:
Advanced tools to fix registry problems.
It also resolves hidden OS faults to avoid crashes and freezes
It finds and deletes tracking data that log your digital activities.
It eliminates temporary files to avoid application incompatibilities.
Pros
Improves the speed of your PC
Additional features and reasonable Paid upgrade
Major Windows edition is supported
Monitor the performance of your PC in real time
Cons
No backup feature for Registry before it is fixed
Can be identified as Virus
Editor's Opinion: MyCleanPC
If the above cons are not bothersome for you use the MyCleanPC. It is one of the best PC optimizer software for Windows in 2023.
---
22. Avira System Speedup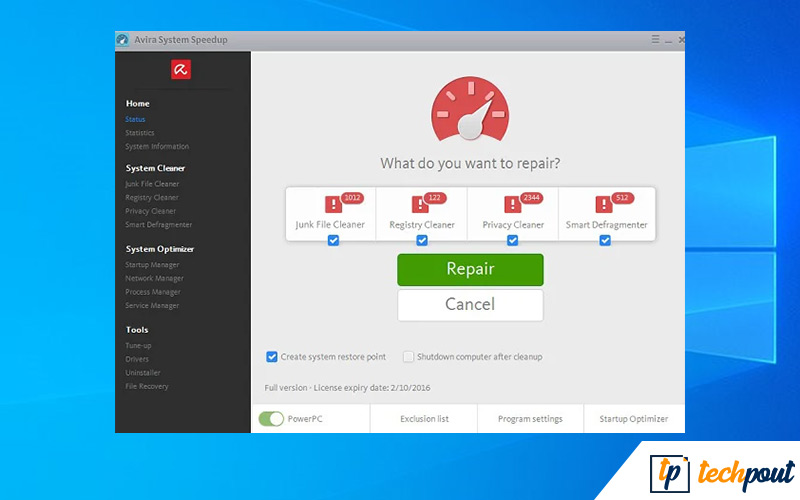 Avira System Speedup is a top optimizer for Windows 10/11. This software includes free PC optimization and cleaner tools that help you in enhancing your system's overall performance. The PC optimizer comes with a registry cleaner, battery optimizer, PC speed booster, and more. In simple terms, it has the ability to boost the old PC and take the performance to the next level.
With an easy-to-use interface, Avira System Speedup makes keeping your PC in tip-top condition much simpler. It automatically scans your PC for all the stuff you no longer need – like temp files, system cache, internet junk, and unwanted user data.
Key Features of Avira System Speedup:
Fully automatic system optimizer and cleaner.
Provides a full set of backup and restore options.
Lightweight and simple to use.
Good customer support.
Manage energy usage and performance with Microsoft's power mode.
Keep your private data protected by encrypting your files.
Pros
Quick deletion.
Enhances overall PC performance.
Numerous tune-up tools.
Intelligent scan engine.
Cons
Less effective compared to other PC optimizers.
Only limited licenses are permitted.
---
23. Fortect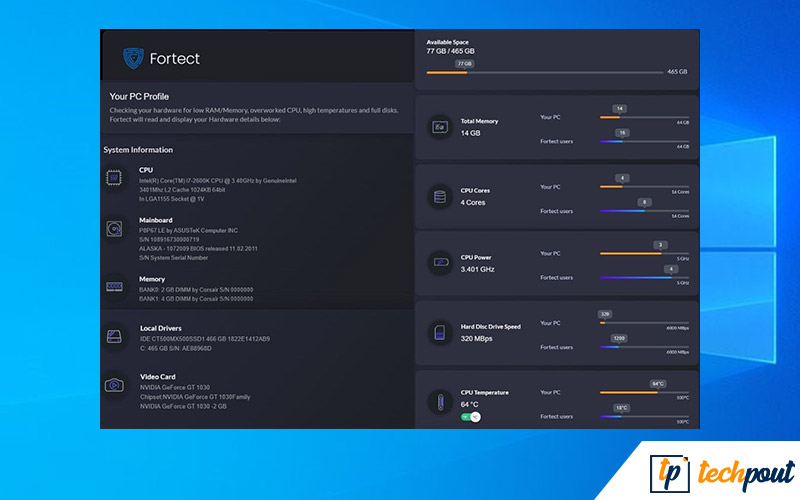 "One of the most technologically advanced software for PC optimization"
Next in the list of the best PC optimizers with Fortect. The most likable thing about this software is that it spots malware or viruses no matter how deeply hidden they are. Moreover, you can use this software to remove junk files from any disk, folder, or hard drive.
Furthermore, Windows registry cleaning, browser cleanup, and the following features make Fortect a well-deserving choice for the top PC optimization software.
Key Features of Fortect
Fast and in-depth PC scanning
Repairs damaged files, including registry keys and DLLs
Protection against malware
Wipes out tracking cookies
Monitors software in real-time
Pros
Detection of a wide range of computer problems
Easy scanning and repairing
Own a database of a plethora of Windows components and files
Cons
No complete antivirus features
Privacy fix can only remove your browser cache
Editor's Opinion: Fortect
Fortect is among the best choices for those wanting a no-nonsense utility for PC optimization. With this software, you can locate missing files on your computer and recover from more serious problems, such as the Blue Screen of Death.
---
24. BleachBit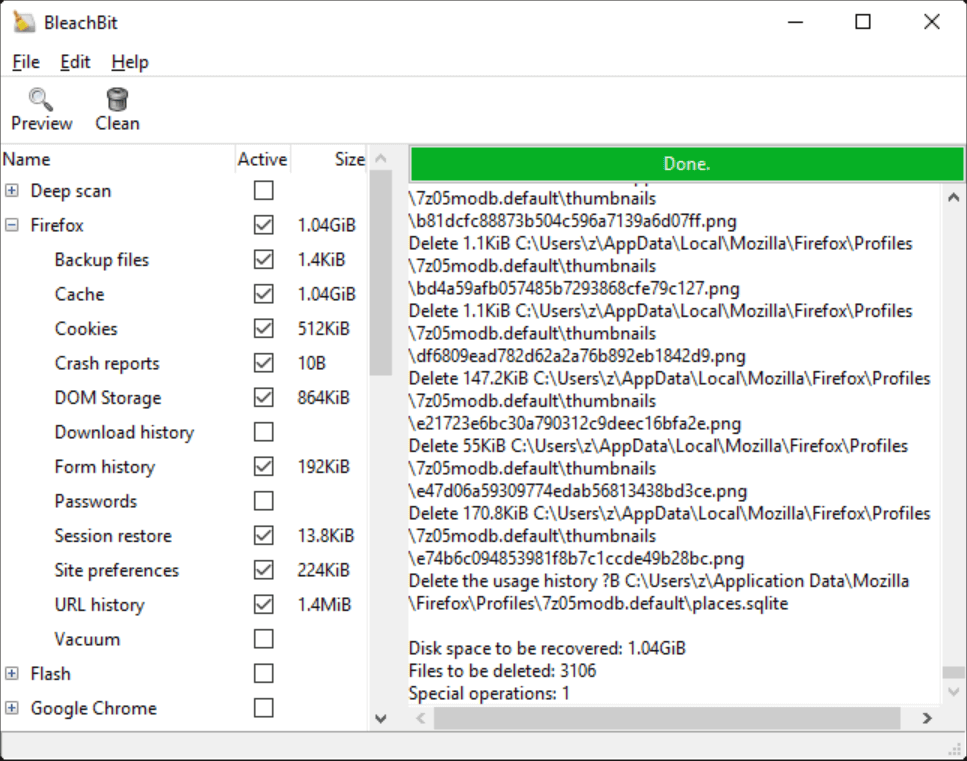 "Another smart software for PC optimization with AI features"
Next on the list of the best PC optimizers is BleachBit. The tool is quite free to use for all and allows you to improve the performance of your system with ease. The smart scanning features of the tool look for faulty problems deep in the system and fix them with ease.
Key Features of BleachBit
Delete files quite deeply
Open source structure for your ease
Portable version available
Regular tool updates
Pros
Delete temporary files with a single click.
Allows you to get more and more free space with each use
Cross-platform tool
Editor's Opinion: BleachBit
If you want a simple tool with a minimalistic UI, then you can try this PC optimization tool. The software may not have as many features as a paid tool but works well with the ones offered.
---
Frequently Asked Questions – PC Optimization Software
Q1.  What is a PC Optimizer?
PC Optimizer is a piece of software that comes in handy when your computer takes ages to function tasks or is taking tons of time to respond. It simply detects the hard drive for any unwanted data and frees up the storage space. This way, your computer becomes more efficient and has a faster speed.
Q2. Do Windows Optimizers Really Work?
The answer to your question depends on which PC tuneup utility or optimization program you are using. If you've downloaded and installed a tool from the above list of best PC optimizers and cleaning software, then you will surely notice a significant improvement in the computer's speed and overall performance.
Q3. Which is the Best PC Optimizer Software for Windows?
There are many Windows PC optimizers out there that boast about their features and their excellence. Very few of them actually are the best. Our observations show that the best optimization software for Windows available in the current marketplace is none other than IOBit Advanced SystemCare. It features an advanced registry cleaner, storage checker, and privacy protection all in just one software. It boosts your system speed and recovers disk space in just a few minutes.
Q4. Is PC Optimizer Safe?
You might think that PC Optimizers are a huge scam, but that's not the case. If downloaded and installed from a legitimate source, PC Optimizers become your computer's new best friend. They detect all the unwanted files and junk and make your PC run like new.
However, there are equally badly-behaving optimizers that are built with amateur code, have malware or are utterly ineffective. They are usually the ones found for free on no-name websites. They are the ones you need to beware of.
Q5. How to Get the Best PC Optimizer Software?
To get the best free PC optimizer, simply go to the official site of the optimization tool, download the software, and install it in your system. After installation, let the software scan your computer hardware for any infections or junk items. Finally, click on 'Fix All Items' to give your PC that much-needed boost.
Q6. What is the best PC optimization software?
Although, all of the products listed in the article above are the best in what they do. The top best free maintenance and optimization tools for Windows are CCleaner, CleanMyPC, and Advanced SystemCare. However, you can check out the description of other tools as well and download the one you like the best.
Q7. How to speed up my laptop?
The best way to speed up any laptop is by using the best system care optimization software for Windows 10. With the help of tools like CCleaner and CleanMyPC. You can get the best performance out of the system easily.
Q8. What is overclocking on a PC?
Overclocking is a technique used by some Windows users to improve the performance of the system. Under this method, the performance of the system is improved beyond the manufacturer's specifications. Different attributes of the system are changed to do that. However, you can also use the best free pc optimizer utility for Windows 10 to improve the performance of the system quite easily. Some of such products are listed above for you.
Q9. What to look for in a good PC optimizer App?
Look for the advanced features and basic working of the PC optimizer you are using. Make sure the optimizer itself doesn't each much out of the limited resources of your PC. Also, check if your pick for the best free optimizer for Windows 11 can uninstall the unnecessary apps, and limit the items that are on auto-run mode.
Q10. What is the best Game optimizer/booster for PC?
The above article lists the best game optimizers for Windows 11, 10, and older version devices. Go through the list and identify the right tool for your system optimization. The optimized tools are developed with specific purposes. Therefore, choose the one that is capable of addressing your concerns and can provide the best experience for your Windows PC.
Q11. Can I optimize Windows 11, and 10 manually for best performance for FREE?
Various manual steps can be taken to optimize the performance of your Windows 11 or 10 devices. These can be a basic system restart, download of pending updates, or driver updates. Even after applying all the manual methods, your system might not fix the issues. Therefore pick the best Windows 11 optimization tool for your device from the above list. This will enhance the working and speed up your PC in no time.
 Q12. How to optimize & clean a computer running Windows 11, 10, 8, 7?
The article above mentions the set of best Windows 11 optimizers. Go through the list and choose the perfect optimizer that matches your requirements and fulfills it. These optimizers can shut down unnecessary applications, optimize the limited resources of your OS and improve the overall experience.
Q13. Do I need a PC optimizer?
Accumulated junk and other problems bug the computer performance to a great extent. Hence, a PC optimizer is essential to ensure your PC works smoothly. You may choose a PC optimizer depending on your requirements from the list above.
Q14. What is the Best Free Optimizer?
Advanced System Repair Pro is the best and most free-to-use PC optimizer for Windows. With this tool, your privacy is completely protected and your system is more secure. This program comes with advanced features to make your computer run faster than usual.
Q15. Does Windows 10 have a built-in PC Optimizer?
No, Windows 10 comes with a built-in tool called Defragment and Optimize Drives to defrag your hard disk drive in order to boost the overall PC performance.
Q16. How can I improve CPU performance?
If you want to improve your CPU performance, you can start by running limited programs at a time, continuously restarting the device, clearing junk files, and you can also take the help of any of the Best PC Optimizer Software For Windows 10 listed and explained above.
---
Breathe Life into Your Old Computer with the Best PC Optimization Software
And there we have it. These are the best PC optimizer software available for Windows in 2023. These Windows optimizer tools will surely aid your system by cleaning out all the junk and giving it the speed boost that it needs. So, what are you waiting for? Get the best-suited PC optimization tool for yourself and start the adventure of optimizing your lagging system.
Diksha Lalwani is an aspiring content marketer and a self-declared bibliophile. An English honors graduate, she likes to keep up with the recent happenings around the world and form an opinion. Her interest in anything and everything tech made her follow the path into becoming a technical writer.
Subscribe to Our
Newsletter

and stay informed

Keep yourself updated with the latest technology and trends with TechPout.
Related Posts