Up-to-date drivers are crucial for the proper functioning of your computer system along with the attached hardware.
They are a vital ingredient in deciding a system performance, and if overlooked for a long time can have serious implication
Updating system drivers from time to time to the latest software version, help you enjoy the optimal performance of your gadget.
Pick and install the best free driver updater today to repair your Windows issues and optimize system overall working.
What is a Driver Updater?
A Driver updater is an essential system element that works in collaboration with the Operating system and forms a link between its Hardware and Software.
Let's take an example for a better understanding. Suppose you have recently purchased a printer, so for the printer to work correctly on the system, you should install the correct driver on your computer.
Outdated drivers do not respond correctly to the system; hence using the latest version becomes essential. Drivers Updaters for Windows are such software that keeps updating your device drivers to the newest version to ensure smooth and uninterrupted working.
How to Update Windows Drivers?
There are several methods for updating your Windows Drivers.
1. Manual Installation: This means you need to install the latest version manually. It can either be done with the disk that came at the time of purchase or from an authorized manufacturer's website.
2. Using Windows Update: This means that your Windows 10 will update its drivers automatically as recommended by the OS.
3. Best Driver Updater Softwares: This is the easiest yet the most convenient way of updating your Drivers. Drivers Updater software offers the best system performance solutions and ensures optimal working.
Best Driver Updater for Windows: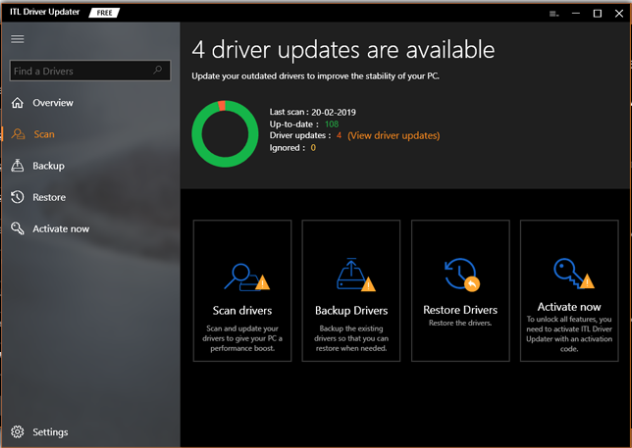 Finding a reliable and authentic system driver can be quite a frustrating task. Manual installation also puts you at the risk of downloading incompatible, infected, Unauthorised, and incorrect drivers.
Experts suggest that optimal system performance can be enjoyed with the use of an efficient driver updater software.
Highly recommended, ITL driver updater is one of the best free driver updater tools. It identifies outdated drivers and checks if any software updates are available for your system.
It comes with a user-friendly interface and is exceptionally easy to use. It scans your system thoroughly, detects outdated drivers, and starts updating them after getting the user's permission.
Unmatched Features of ITL Driver Updater:
1. Optimal performance: A system running on the latest drivers is bound to perform well. Give your system the much-required speed and stability with this utterly free driver updater.
2. One-Tap Updates: Scan, detect, and update your broken and outdated drivers and update them in a single click.
3. Time Saver: Searching for genuine drivers manually can eat away a lot of time. A driver updater software like ITL can effortlessly do this job for you within seconds.
This power-packer tool is compatible with Windows 7 & above versions and requires a 1Ghz processor or above to work.
Hard drives, Laptops, Monitors, Bluetooth, Printers, Tablets, Scanners, Optical Disk Drivers are few of the Drivers supported by ITL Driver Updater.